Joseph F. Dooley, antiguo presidente de Duracell de la empresa The Procter & Gamble y de las operaciones en los Estados Unidos de Gillette.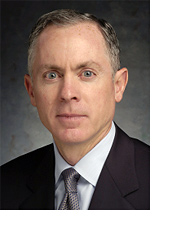 Entre las credenciales de Joseph F. Dooley se incluyen los cargos que ocupó en la junta directiva en Duracell, The Gillette Company y su matriz The Procter & Gamble Company.
Dooley, que se jubiló en 2007 para ser un inversor privado, ocupó puestos que suponían cada vez una mayor responsabilidad en Duracell y Gillette después de licenciarse en la rama de Ciencias en el Husson College en 1975. Hace poco, Dooley fue presidente de Duracell y de la empresa Nanfu Battery Company con sede en China, que Duracell adquirió en 2003. Duracell es el productor líder en el mundo de baterías alcalinas de alto rendimiento.
En un cargo anterior, Dooley fue presidente de Duracell en Canadá, durante el tiempo de la adquisición de Gillette que llevó a cabo Duracell en 1997. Posteriormente, se convirtió en presidente de Gillete en Norteamérica, en donde trabajó en varias marcas de este comerciante y fabricante renovado de productos para el cuidado bucal y el aseo personal.
Dooley fue miembro de los consejos de Retail Industry Leaders Association y de Students in Free Enterprise. También ha sido miembro asociado del consejo de la National Association of Chain Drug Stores' Leadership Council y del consejo sobre los asuntos del sector de la Grocery Manufacturers Association.