Eliot Siegel, director general, M.D.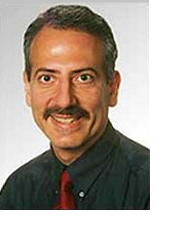 Dr. Siegel es profesor y vicepresidencia Informática Investigación en la Escuela de la Universidad de Maryland de Medicina, Departamento de Radiología Diagnóstica, así como Jefe de Radiología y Medicina Nuclear para el Sistema de Salud de Asuntos de Veteranos de Maryland, ambos en Baltimore, MD. El Dr. Siegel también es responsable de National Cancer Image Archive del NCI y es líder del área del trabajo de caBIG In Vivo Imaging Workspace del National Cancer Institute.
Bajo su supervisión, el VA Maryland Healthcare System se convirtió en la primera empresa de cuidados de la salud sin película de Estados Unidos. Ha escrito más de 200 artículos y capítulos de libros sobre los sistemas de archivado y comunicación de imagen (PACS) y el tratamiento digital de imágenes y ha editado seis libros sobre este tema, incluyendo los asuntos de seguridad y radiología sin película en la empresa médica digital. Ha realizado más de 1.000 presentaciones por todo el mundo sobre una amplia gama de temas acerca del uso de los ordenadores en el ámbito médico. Ha sido nombrado Investigador del año, ha recibido varios premios por innovación (incluido el premio Smithsonian) y quedó en el segundo puesto de Educador del año para radiología diagnóstica. Los lectores y el consejo editorial de imágenes médicas han seleccionado al Dr. Siegel como uno de los mejores diez radiólogos de los últimos dos años. Durante tres años, fue presidente del simposio para la reunión sobre imágenes médicas de la Society of Photo-optical and Industrial Engineers (SPIE) y actualmente es presidente de las publicaciones de la Society of Computer Applications in Radiology (SIIM) y ha sido considerado miembro de esta organización. Es presidente del comité de investigación de imágenes médicas de la RSNA. Sus áreas de interés y responsabilidad se sitúan en el ámbito nacional y local e incluyen imágenes digitales y PACS, telemedicina, informática y registros médicos electrónicos.
El Dr. Siegel realizó un máster en la Universidad de Maryland.