Carestream Health Helps Keep SAGA Onboard Medical Facilities Afloat
Home - News Releases
Carestream Health Helps Keep SAGA Onboard Medical Facilities Afloat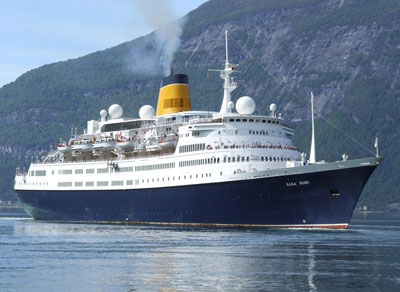 GENEVA, 9 April - SAGA Cruises, the worldwide cruise line, has installed KODAK Point-of-Care CR 360 Systems from Carestream Health in two of their cruise ships. MS SAGA Ruby, a medium-sized vessel, carries 661 passengers, while the smaller 'MV Spirit of Adventure' takes 352 passengers on special interest cruises. The robust, lightweight Kodak CR 360 systems will replace the existing chemical-based processors in both ships' on-board medical facilities
Dr Gareth Spier, Medical Consultant for SAGA, said he was delighted to have the Carestream Health systems on board. 'They have already proven to be extremely robust and solve the cross contamination and fluid disposal problems of our previous chemical systems, which is obviously much better for the environment,' he said.
Both ships take passengers to remote parts of the world. Spirit of Adventure has just returned from cruises down the Amazon and to the Antarctic whilst the SAGA Ruby has recently been to the Arctic, so the on-board medical teams - usually a doctor and two nurses - are very self dependent.
Dr Spier said: 'The new CR systems give us another great benefit. We now get direct access to specialist advice and, when necessary, are able to send images down the line to a London hospital where they can be quickly reported for us. This is a great advance in patient care, whether for passengers or crew. Prior to taking delivery of the new system, additional costs were incurred sending patients ashore for diagnosis and treatment. Now, with the greatly improved image quality, we can do it all on-board.'
The KODAK Point-of-Care CR 360 System provides throughput of over 60 plates per hour and is designed to fit the needs of small to medium-sized healthcare facilities, providing fast and easy access to high quality images at an affordable price. The small footprint also offers the capability to perform diagnostic imaging functions at the point of patient care. The compact system includes a single-plate CR reader, flexible phosphor screens and a PC-based review station.
Dr Spier summed up: 'We looked at other solutions but the Carestream Health system was the most robust and suited to our working environment.'
###
About Carestream Health, Inc.
Carestream Health, Inc., is a leading provider of dental and medical imaging systems and healthcare IT solutions; molecular imaging systems for the life science research and drug discovery/development market segments; and x-ray film and digital x-ray products for the non-destructive testing market. Headquartered in Rochester, N.Y., and serving customers in more than 150 countries, Carestream Health is an independent company operating within the family of companies owned by Onex Corporation (TSX: OCX.TO) of Toronto, Canada. For more information about Carestream Health, contact your Carestream Health representative or visit www.carestreamhealth.com/.
CARESTREAM is a trademark of Carestream Health, Inc.
KODAK is a trademark of Kodak used under license.
2009