Olympic Hospital Wins With Carestream Drx-1
Home - News Releases
Olympic Hospital Wins With Carestream Drx-1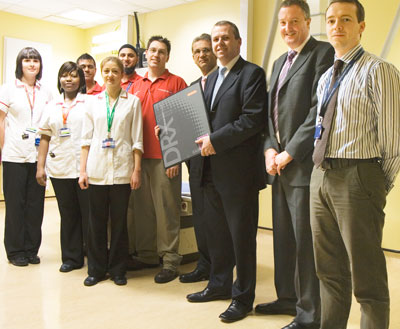 Jenny Clarkson, Radiographer; Anant Patel, Radiology IM&T Manager; Nad Mutsau, Radiographer; Mohammed Patel, PACS Manager; Nicky Lanzon, Superintendent Reporting Radiographer A&E; Nick Woznitza, Reporting Radiographer; Colin West, Head of Imaging Services; Charlie McCaffrey, MD, Carestream Health UK; Kevin Smith, Carestream Health UK
Geneva, 4 January - Homerton University Hospital, in the east London Borough of Hackney, is a foundation hospital, located just two miles from the site of the 2012 London Olympics. Being so close, Homerton has been named as the designated hospital for the Games.
The radiology department at Homerton recently installed three CARESTREAM DRX-1 Systems, together with two additional CARESTREAM DRX-1 wireless, cassette-sized detectors, making the hospital the first in the UK to install the systems in three general X-ray rooms, with multiple DR plates in two rooms. The upgrade from CR to DR technology means that all general X-ray rooms at Homerton will now benefit from the speed of DR technology. For additional flexibility, detectors can be disassociated from a designated room and moved to another, ensuring that peak work-loads are catered for.
The department currently has five plain film rooms carrying out up to 250 examinations a day, with a total of 104,000 exams per year across all modalities, which include MR, mammography, fluoroscopy and ultrasound. The department installed a 64-slice CT scanner 18 months ago.
Head of Imaging Services, Colin West, is in charge of strategic, financial and operational management of the department and was responsible for bringing the CARESTREAM DRX-1 Systems to Homerton. 'I attended UKRC in 2008 and was given the chance of a demonstration of the new DRX-1,' he said. 'At the time we had a DR and four plain rooms working off CR,' he continued. 'I had plans to convert one of the other rooms to DR but there was not funding to convert the other three, so the fact that I found a system that was an upgrade placed me exactly where I wanted to be. After ten minutes I said I'd like to buy three!'
Colin West is clear about the advantages he saw in the CARESTREAM DRX-1. 'It was very simple,' he explained, 'it was an upgrade; it fitted directly into my existing equipment, which at the time was only five or six years old. I was not willing to remove perfectly good equipment, but at the same time we definitely needed DR functionality. So to be able to have a system that offered an upgrade to DR without removing the room was absolutely on the button.'
ONE DAY INSTALLATION
Installation of the CARESTREAM DRX-1 Systems took one working day for each room and was achieved without any noticeable disruption. 'In our department one of the rooms is a standalone and the other two are parallel working,' said Colin West. 'We installed DRX-1 into the single room first and all our radiographers did their application training there. When we converted the parallel rooms, we did one after the other so that one could still be operative. Therefore, when the first DRX-1 went into that pair, it meant that the radiographers could use it immediately, so there was no effect on clinical flow. Once both rooms were installed all the radiographers were already trained and we went operational straightaway.'
Carestream Health application trainers were subsequently on site for a full week, as Colin West explained: 'We had a full roll out training programme for every individual radiographer, and that only took an hour each, as they're used to existing CR and DR. We have three or four members of staff who are super users and they were with the application trainer for several days.'
Once the CARESTREAM DRX-1 Systems were installed staff could apply various algorithms to define image quality, adjusting for contrast, speed and definition, for particular body parts and areas.
EXPECTATIONS REALISED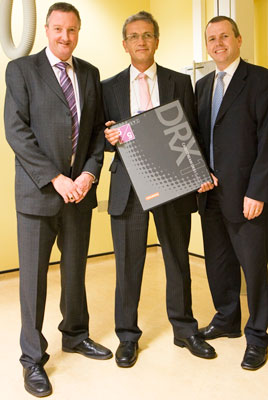 Kevin Smith, Carestream Health UK; Colin West, Head of Imaging Services; Charlie McCaffrey, Managing Director, Carestream Health UK


Within a week of installation Colin West was able to see that his expectations of the CARESTREAM DRX-1 Systems were fully justified. 'All of our 'plain film' patients come to the department without scheduled appointments; they just walk in,' he explained. 'Previous audits on turnaround time showed that the patient process from arrival to departure took about forty minutes. We carried out an audit after the first week following installation which showed that turnaround time has now reduced by half, to twenty minutes. Also the previous average time in the X-ray examination room was eight minutes, and that was now reduced to five minutes. So the efficiencies that I was expecting have absolutely been proven. In terms of what the DRX-1 systems were bought to do, which was to improve productivity and efficiency, they've already done it.' As a direct result of the improvements in clinical workflow Colin West is now looking at a new design for the layout of the radiology department. 'We currently have a waiting area with fifty chairs in it and I'm already looking to see if we can reduce that to thirty, thus freeing up space. We're also monitoring the number of changing rooms we need.'

Colin views his overall relationship with Carestream Health as totally positive. 'They promised right from the beginning that I'd be one of the early implementers and that was achieved. They also said it would take a day to install and they were correct. It's been one hundred per cent successful. Would I recommend them? Yes, absolutely. They have a quality product, a quality service and a quality team. The CARESTREAM DRX-1 is the only product of its type and it absolutely fits with my service needs.'

And what effect does Colin West think that the 2012 Olympics will have on his workflow? 'There will be some 100,000 extra people arriving two miles away,' he said. 'We're likely to be quite busy!'

###

About Carestream Health, Inc.
Formed in 2007, Carestream Health, Inc., is a worldwide provider of dental and medical imaging systems and healthcare IT solutions; molecular imaging systems for the life science research and drug discovery/development market segments; and X-ray film and digital X-ray products for the non-destructive testing market. For more information about the company's broad portfolio of products, solutions and services, please contact your Carestream Health representative or visit www.carestreamhealth.com.

CARESTREAM is a trademark of Carestream Health, Inc.
2010