From Hospital Bed to Sea Bed!
A new CARESTREAM DRX-Evolution modular DR system and a CARESTREAM Classic CR have been installed at the Jordanstown Campus of the University of Ulster. The installation will be used for training around sixty students a year on the Diagnostic Radiography and Therapeutic Radiography courses at the University, one of the oldest allied health professional academic schools in the UK,
Powered by the cassette-sized, wireless CARESTREAM DRX-1 detector, the DRX-Evolution is a modular system designed to custom fit individual spaces and workflows.
Dr Sonyia McFadden, Lecturer in Diagnostic Radiography for the School of Health Sciences, said that using the traditional CR system and the DRX-Evolution system would act as a broad simulation of the conditions students would encounter in their radiographic careers. 'We start by getting the students used to basic radiographic techniques using the CR system and PACS,' said Dr McFadden, 'then later they move on to the digital equipment. The Carestream systems are ideal for this because they share a common interface, which makes life easier for the students.'
As well as for teaching, the DRX-Evolution is increasingly being utilised for research collaborations. A team of marine geologists were first to use it to examine sediment cores collected from the seabed off Ireland's coast, in water depths of up to 3000 meters. 'They can clearly identify the different layers of sediment deposited during and after the last glaciation of 20 to 30 thousand years ago' explained Dr. McFadden. She went on, 'the scientists involved are very excited by the quality of the preliminary images they have obtained and will soon complete a full set of analyses that will be fundamental for the understanding of how climate oscillations affect sedimentation in the deep ocean '.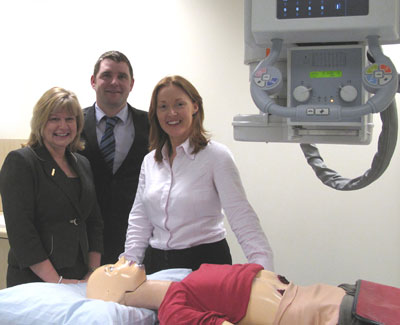 (From l - r) Jane Grimsley, Marketing Manager, Carestream; Jason Roddy, Technical Sales Lead, Medray (Carestream's Business Partner for Ireland) and Dr Sonyia Mc Fadden, Lecturer In Diagnostic Radiography, School of Health Sciences, University of Ulster.
About Carestream Health
Carestream Health is a worldwide provider of dental and medical imaging systems and healthcare IT solutions; molecular imaging systems for life science research and drug discovery/development; x-ray film and digital x-ray systems for non-destructive testing; and advanced materials for the precision films and electronics markets.
For more information about the company's broad portfolio of products, solutions and services, please contact your Carestream Health representative or visit www.carestream.com.
CARESTREAM is a trademark of Carestream Health.
2011