Cobalt Achieve First UKAS Accreditation With Help from Carestream
The Cobalt Unit Appeal Fund (Cheltenham Imaging Centre) has become the first, and so far only, UK imaging service to be accredited by UKAS to the Imaging Services Accreditation Scheme (ISAS) Standard. The accreditation marks Cobalt's competence to deliver against key quality measures related to patient and clinical outcomes at their Cheltenham site.
Cobalt, a medical charity, has over 40 years' experience delivering static and mobile services to NHS, private and medical insurance clients. Radiology services are provided for a wide range of specialties, including MRI, PET/CT, CT and X-Ray, with around 14,000 examinations undertaken annually, sixty percent of them being NHS referrals.
Explicit outcome measures (OCM's) within the ISAS standard encourage the continual improvement and development of services against relevant performance targets across four domains, clinical, patient, safety and facilities.
Niky Sykes, Head of IT at Cobalt said: "The Standard is so developmental that it gave us a chance to take a fresh look and undertake a complete service analysis and re-evaluation. This helped us to refine our processes and undeniably improve service delivery and patient care. We thought we already did a lot brilliantly, but ISAS helped us discover ways of improving and then ensured that we continue to improve.'
Prior to the assessment Carestream had worked closely with Cobalt to develop their extensive RIS/PACS system. 'The challenge was to extend our stand alone Carestream RIS with an automated PACS which would hang all images, from all protocols, for reporting from seven different MRI systems by thirty Consultant Radiologists, all with individual requirements,' explained Niky.
'We'd formed a great partnership with the team from Carestream during the RIS implementation and I felt confident that the flexibility of the system would allow us to accomplish it.'
Following the UKAS assessment Cobalt is using the submission, evidence and OCM's as benchmarks to look towards future development, as Niky explained: 'our healthcare information systems will be further upgraded during 2011 and the UKAS assessment and evidencing process has led to us choose Carestream's fully integrated RIS/PACS and VRT, which are fully adaptable to our needs and exceptional for defining and automating workflow.'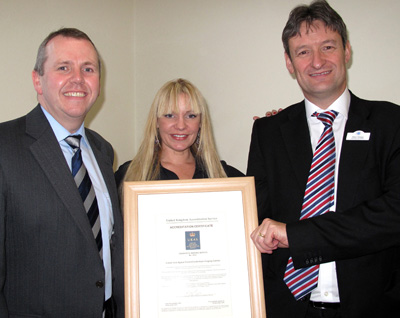 (From l - r) Charlie McCaffrey Managing Director Carestream Health UK Limited; Niky Sykes, Cobalt, Head of IT, Business & Marketing; Peter Sharpe Chief Executive, Cobalt
About Carestream Health
Carestream Health is a worldwide provider of dental and medical imaging systems and healthcare IT solutions; molecular imaging systems for life science research and drug discovery/development; x-ray film and digital x-ray systems for non-destructive testing; and advanced materials for the precision films and electronics markets.
For more information about the company's broad portfolio of products, solutions and services, please contact your Carestream Health representative or visit www.carestream.com.
CARESTREAM is a trademark of Carestream Health.

Follow Carestream Health online:
2011