Carestream Health Provides Pacs Solution for Spire Healthcare
When Spire Healthcare set out to procure a new PACS (Picture Archiving and Communication System) to cover 26 hospitals in their group and to implement a new RIS (Radiology Information System) at the same hospitals, they had clear objectives - they wanted to provide the best quality service to patients and consultants, using modern technology.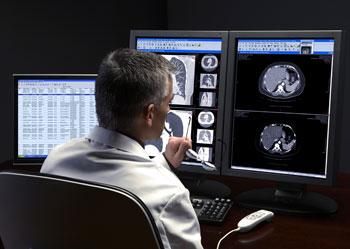 Following an evaluation process with leading PACS and RIS suppliers, Spire Healthcare agreed a contract with Carestream Health (at that time part of Kodak). In order to meet Spire's requirements, Carestream proposed and implemented a mixture of central and distributed solutions. The central Data Centre solution consisted of a single RIS supporting group hospitals with a central PACS and long-term archive. Locally, each hospital used the same server and RAID (additional storage facility) with Carestream's Workflow Manager supporting local image capture, local reporting and local access to images and reports in wards and clinics. All local PACS deployments were synchronised with the central Data Centre PACS.
Stephen Hayward, IT and Operations Director for Spire Healthcare, is clear about the benefits of the new Carestream Health PACS/RIS: 'They have certainly enabled us to make improvements with the turnaround time of patient reports,' he said.
The Data Centre based applications contain a copy of every image and report generated at each hospital. External reporting is provided by web-based access to RIS and PACS functionality from the Data Centre, while the central archive also provides DICOM Access Point (DAP) and HL7 communication for the exchange of images and reports with the NHS when required.
'The way Spire has deployed the Carestream system means that our centralised architecture enables hospitals to work more flexibly, including allowing consultants to report remotely in certain circumstances,' explained Stephen Hayward. 'Having images stored digitally enables Spire hospitals to share images and reports with other hospitals and clinicians, including NHS Trusts, as required, to improve the continuity of patient care.'
When Carestream Health won a separate procurement for CR (Computed Radiography) systems for Spire Healthcare, the two projects were linked to ensure that CR implementation took place with local PACS deployment, or earlier. Stephen Hayward had clear expectations of the move from analogue to digital: 'Some of our hospitals already had CR and, having seen the benefits this brings, we knew that eliminating nearly all film in hospitals would result in less filing work, lower storage costs, reduced consumables costs, a reduced need to re-scan patients and would also make it harder for images to go missing.'
As Spire Healthcare anticipated an increase in the number of exams generated there was a need for external agencies to have web-based access to those exams. Flexibility of the agreed solution was also vital, as Spire Healthcare wished to be able to use the systems to support existing mobile units, third party MRI providers and the use of NHS facilities.
When Spire Healthcare was created in 2007 it had to find new internal IT resources, including the new Data Centre hosting. Carestream supported Spire Healthcare throughout this transition phase with minimal disruption.
Finally, Stephen Hayward sees both clinical and patient benefits from the new systems. 'Consultants have told us that the images are of a better quality than they previously had on film,' he said. 'As images are stored digitally there is always a copy available so there is no need to re x-ray patients, which minimises the dose of radiation to which they are exposed. Patients also don't have to wait as long for their reports.'
'Images can be transferred around the hospital electronically,' he continued. 'This means the scans can be displayed in the consulting room by the time the patient arrives for their consultation. They can then view their images on high quality screens together with their consultant.'
Carestream Health is currently working with Spire Healthcare to introduce the latest PACS platform V11 and RIS V11.
About Carestream Health
Carestream Health is a worldwide provider of dental and medical imaging systems and healthcare IT solutions; molecular imaging systems for life science research and drug discovery/development; x-ray film and digital x-ray systems for non-destructive testing; and advanced materials for the precision films and electronics markets.
For more information about the company's broad portfolio of products, solutions and services, please contact your Carestream Health representative or visit www.carestream.com.
CARESTREAM is a trademark of Carestream Health.