Salford Royal NHS Foundation Trust has ordered a second Carestream DRX-Revolution mobile x-ray unit for use in their new Hope building, part of the Trust's £200 million redevelopment scheme to improve the hospital site.
The Carestream Revolution mobiles provide imaging for A&E, ICU and the Medical, Surgical and Neurological High Dependency units. Salford Royal is a large Major Trauma Centre providing local services to the City of Salford and specialist services to Greater Manchester and beyond.. The radiology department carries out around 200,000 examinations each year.
Superintendent Radiographer at Salford Royal, Phil Smalley said: "The We use the Carestream Revolution mobillefor the efficient imaging of a large number of examinations. One of our main requirements was for wireless ability to transfer images to PACS and the Carestream Revolution scored highest during product evaluation.'
The first Carestream Revolution was installed in November 2012 and has proved popular with staff performing mobile examinations for overall ease of use, reliability and the quality of the drive supplied with the unit. 'The images are of a high standard, utilising the caesium iodide detector', said Phil Smalley, 'and having spare batteries charged on the unit is an additional advantage.' The positive reaction to the first Carestream mobile led to the decision to purchase the second unit.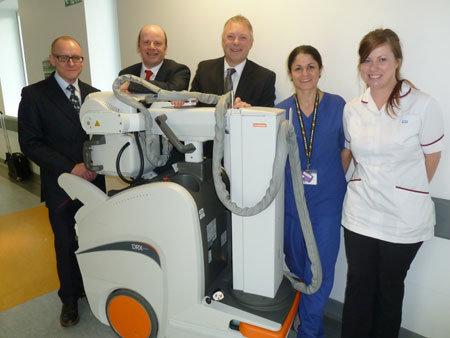 Pictured with the Carestream Revolution are: (left to right) Phil Smalley (Superintendent Radiographer), Martin Stewart (DR Product Specialist, Carestream), Jonathan Atkinson (Account Manager North of England, Carestream), Sue Keay (Senior Radiographer), Emma Collard (Senior Radiographer)
About Carestream Health

Carestream Health is a worldwide provider of dental and medical imaging systems and healthcare IT solutions; X-ray film and digital X-ray systems for non-destructive testing; and advanced materials for the precision films and electronics markets.
For more information about the company's broad portfolio of products, solutions and services, please contact your Carestream Health representative or visit www.carestream.com.
CARESTREAM is a trademark of Carestream Health.
2013