Parkside Evolves With Caresteam Drx-Evolution
When Parkside Hospital in Wimbledon built a new outpatients department in 2010 they took the opportunity to upgrade their existing CR system to a state of the art CARESTREAM DRX Evolution dual detector x-ray room, with three additional Carestream PACS/RIS workstations to extend their existing network.
Powered by the cassette-sized, wireless CARESTREAM DRX-1 detector, the DRX-Evolution is a modular DR system designed to custom fit individual spaces, workflows and budgets. The fully automated, dual detector system at Parkside Hospital, with motorised overhead tube and wall stand, is already enabling increased workflow in their busy radiology department.
Parkside is a prestigious private hospital owned by Aspen Healthcare Ltd., situated opposite Wimbledon Common in South West London. It provides a wide range of medical and surgical specialities, from health screening and outpatient clinics to specialised cancer treatments and post-operative nursing care. Radiology Manager Ros Kilby is already appreciating the benefits of the new DRX-Evolution x-ray room. 'It's great for our radiographers,' she said. 'The equipment is so easy to move; there's no more heaving tubes about or lifting heavy cassettes. We simply programme in the views we want and press a remote control to move the tube and detector into position.'
'It's incredibly easy to use and has certainly improved the speed of acquiring images', she continued. 'And it creates a great impression with the patients. Everybody is very impressed'.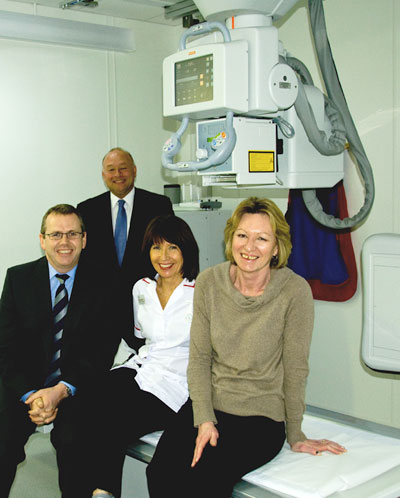 (left to right) Charlie McCaffrey, Managing Director, Carestream; Andy Cross, Carestream Business Partner Manager; Glynis Searle, Senior Radiographer; Ros Kilby, Radiology Manager
About Carestream Health
Carestream Health is a worldwide provider of dental and medical imaging systems and healthcare IT solutions; molecular imaging systems for life science research and drug discovery/development; x-ray film and digital x-ray systems for non-destructive testing; and advanced materials for the precision films and electronics markets.

For more information about the company's broad portfolio of products, solutions and services, please contact your Carestream Health representative or visit .www.carestream.com.

CARESTREAM is a trademark of Carestream Health.
2011