Carestream Appoint Medray As A New Business Partner
Carestream Health has appointed Medray Imaging Systems as a Business Partner to act as distributor of Carestream products, covering sales and service, across the Republic of Ireland and Northern Ireland. The agreement, which effectively creates a one-stop shop for Carestream customers, will take effect from 1st January 2011, from when all orders for Carestream products should be placed through Medray.
Carestream products sold and supported by Medray will include all X-ray film and chemistry, Laser Printers, CR products and associated media, Digital Radiography products, including the evolutionary DRX-1 wireless cassette, and the new state-of-the-art range of Evolution digital X-ray suites. Medray will also supply and support Carestream's range of Healthcare IT systems such as RIS and PACS.
100% Irish owned, Medray's connection with the Irish X-ray industry stretches back almost 30 years. They have a dedicated team of five engineers located in Dublin, Sligo, Kildare and Carlow, strategically placed to respond promptly to emergency breakdowns 24 hours a day, 365 days a year.
Customers currently ordering Carestream X-ray film, chemistry and equipment should now place all orders with Medray. This will offer the reassurance of a local, certified, authorised source and ensure continuity of supplies. Hospital accounts have already been set up and they have put in place the necessary increased inventory to meet the anticipated demand.
Medray Imaging Systems can be contacted at: Unit B5, Clonlara Avenue, Baldonnell Business Park, Dublin 22. Telephone: 01 466 3773, Facsimile: 01 466 3800, Lo call: 1890 35 45 55. E-mail: info@medray.ie or visit their website on www.medray.ie.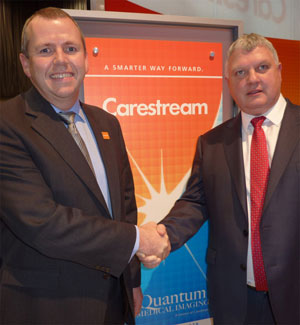 Charlie McCaffrey, Managing Director of Carestream Health (left) and Aidan O'Reilly, Managing Director of Medray Imaging Systems, upon agreement of their Business Partnership.
About Carestream Health, Inc.
Carestream Health, Inc., is a worldwide provider of dental and medical imaging systems and healthcare IT solutions; molecular imaging systems for the life science research and drug discovery/development market segments; and X-ray film and digital X-ray products for the non-destructive testing market. For more information about the company's broad portfolio of products, solutions and services, please contact your Carestream Health representative or visit www.carestreamhealth.com.
CARESTREAM is a trademark of Carestream Health, Inc.
2010