Andy Cross Joins Carestream Health as Business Partner Manager
Carestream Health UK Ltd. has announced the appointment of Andy Cross as Business Partner Manager.
Andy's career in medical sales began in 1984 when he joined the Health Sciences Division of Kodak Limited as Technical Sales Representative for Scotland, later becoming Regional Project Manager with responsibility for Laser Printers. He left Kodak in 1993 to join GE Medical Systems where he held various positions, most recently as Healthcare IT Sales Manager for UK and Ireland.
Andy, a well known and well respected member of the UK medical imaging Industry, commented on his appointment saying: 'it feels like coming home! It's great to be back working with some old colleagues and some helpful, friendly new ones'.
Charlie McCaffrey, Managing Director, Carestream Health UK Limited added: 'Attracting someone of Andy's calibre and experience to Carestream is a significant coup and says much about the high standing Carestream has in the UK and Ireland marketplace. He will be a strong addition to our team'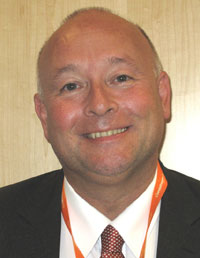 Andy Cross
About Carestream Health, Inc.
Carestream Health, Inc., is a worldwide provider of dental and medical imaging systems and healthcare IT solutions; molecular imaging systems for the life science research and drug discovery/development market segments; and X-ray film and digital X-ray products for the non-destructive testing market. For more information about the company's broad portfolio of products, solutions and services, please contact your Carestream Health representative or visit www.carestreamhealth.com.
CARESTREAM is a trademark of Carestream Health, Inc.
2010