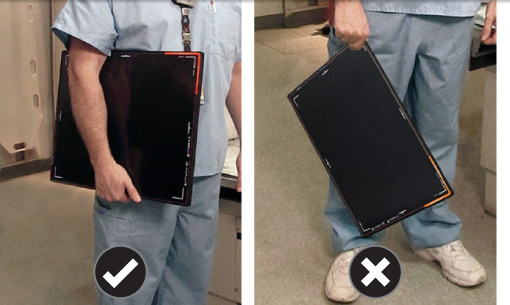 DRX Detector Safe Handling Instruction Sheet
Download an electronic version of our Safe Handling sheet. This simple visual instruction illustrates proper use and handling of your DRX Detector.
Additional information on our innovative DRX-1 System is available at http://www.carestream.com/drx-1System.html.
As a DRX Detector customer and Accident Protection Plan (APP) holder, you fully realize the detector is at the heart of your imaging. Its robust, wireless design works across your Carestream equipment with tremendous ease and flexibility. As such, it's a valuable investment – one you count on for maximum productivity and quality patient care.
Although accidents are sometimes a reality in a busy imaging environment, it is always a good time to reinforce the proper handling of your valuable detectors. Proper care and safe handling is a way that your imaging staff can positively add to cost controls and quality within your facility.