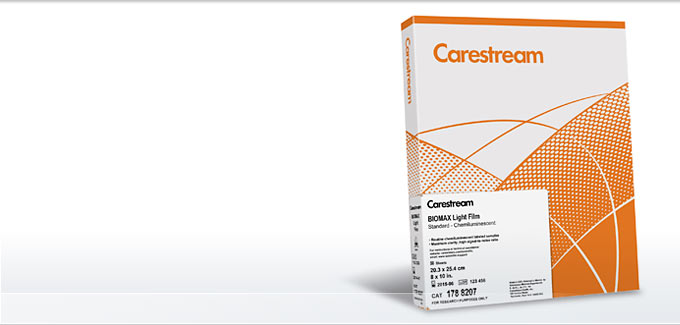 BioMax Light Film for Chemiluminescent Imaging
Double emulsion BioMax Light film provides maximum clarity and sensitivity for detection of chemiluminescent labeled samples. BioMax Light produces the highest signal-to-noise ratio of any film for chemiluminescent detection and is suitable for direct and intensifying screen exposures with commonly used isotopes. 
Features
Options
Available Sizes
Features
Highest Signal-to-Noise Ratio for Chemiluminescent Imaging
BioMax Light film performs well with all brands of chemiluminescent kits.
Suitable for Direct and Intensifying Screen Exposures
with commonly used isotopes, though BioMax Light film provides lower sensitivity resulting in longer exposure times compared to BioMax MS, and BioMax XAR films for radioisotope detection.
Options
Available Sizes