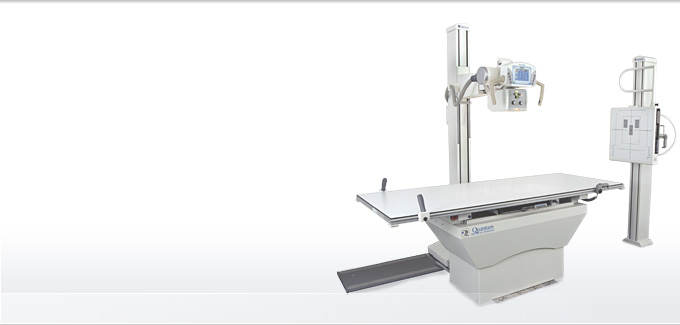 Q-Rad Digital DRX Series Systems
Fully integrated Digital Radiographic Systems
The Q-Rad-DIGITAL DRX-Series systems feature Carestream DRX Technology, along with Smart-System innovations such as TechVision™, an Operator Touch-Control Center and the flexibility of Wireless or Wired DR solutions are available in either Ceiling or Floor mounted configurations
Digital DRX Series
Ceiling Mounted
Floor Mounted
TechVision
Accessories
Digital DRX Series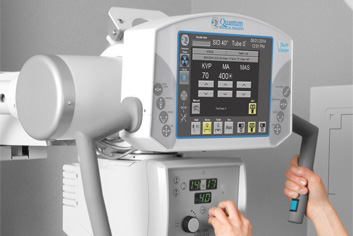 The "DRX SERIES" systems provide superior positioning flexibility by using a wireless cassette-size detector in either the table or wall stand. The light weight design, large imaging area and fast display times of the innovative detector technology makes it easy to capture high quality diagnostic images for routine diagnosis, as well as in challenging trauma positioning.
DIVERSE APPLICATIONS SERVING A WIDE RANGE OF CLINICAL ENVIRONMENTS
Q-Rad-Digital Systems are designed for high patient volumes serving a wide range of clinical environments from in-patient and out-patient radiology departments, Emergency/trauma, imaging centers, orthopedic facilities, and urgent care clinics. System configurations satisfy a variety of clinical environments. From the routine chest or detailed extremities to the non-ambulatory trauma patients, the range of applications with Q-Rad Digital Systems is virtually endless. Now you get maximum productivity with the patient throughput of DR combined with the positioning ease of a single cassette, all with the highest image quality at the lowest patient dose.
SYSTEM INTEGRATION - ENHANCES WORKFLOW AND PRODUCTIVITY
Advanced system integration enhances your DR workflow from patient registration, to exam configuration, patient positioning, image acquisition, and image archive. In addition to an inherent productivity gain with network connectivity to Modality Worklist and PACS, the fully integrated Q-Rad-Digital DR Console optimizes the entire patient examination process with fully integrated and Worklist-driven single-accession and multi-accession exam configuration, generator integration, fast image processing, and automated exam sequencing.
Ceiling Mounted
Floor Mounted
TechVision
Accessories