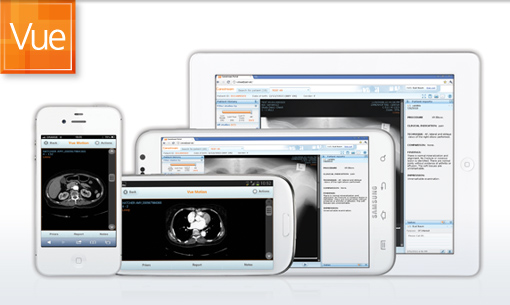 Vue Motion Receives
FDA
CLEARANCE
On These Mobile Devices
"Image access on on my smartphone has made a vast difference. I no longer have to go to the hospital to view images and reports. I can log in on weekends wherever I am – which is a huge advantage."
We enable doctors to securely access and exchange images, collaborate with other clinicians, and work with better-quality data at the point of care.
With Vue Motion, you can:
Access images from almost any device running a web browser
No local installation or download required
Uses a single, intuitive user interface – no application training required
Side-by-side image display for comparison and sync of priors or series
Vue Motion is now cleared for clinical readings* using the following mobile devices:
Apple iPad AIR2
Apple iPad AIR
iPhone SE
iPhone 6S
iPhone 6
iPhone 5
iPhone 4S
iPad 4
iPad 3
iPad 2
Galaxy S7
Galaxy S6
Galaxy Note 10.1
Galaxy S4
Galaxy S5
Galaxy S III
Check back often for updates on newly cleared devices.
* Due to the nature of digital capture from lm-screen systems, caution should be taken while viewing CR and DR images to ensure optimal contrast and detail sharpness. Therefore, Carestream recommends that during image review, the frequent and concurrent usage of Vue Motion provided viewing tools, such as zoom, pan, and window level adjustments, be used. This will maximize image contrast and detail sharpness of each image displayed via Vue Motion on the portable and mobile device.