Richard S. Morabito, Chief Purchasing Officer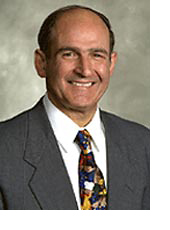 Richard S. Morabito is Chief Purchasing Officer for Carestream Health and is a member of the company's senior leadership team.
Mr. Morabito, formerly, served as Chief Purchasing Officer and Vice President of Eastman Kodak Company. He was instrumental in creating a high-performance worldwide purchasing organization for Kodak. The focus of Mr. Morabito's energy resulted in improved productivity, communications, supply-base rationalization, quality management, lead-time reduction, e-commerce initiatives and more. He successfully led regional annual purchasing events for Kodak's key suppliers to clearly communicate double-digit productivity and quality expectations.
Previously, Mr. Morabito served as Vice President, Global Purchasing, for Xerox Corporation's Corporate Strategic Services/Manufacturing Support Organization. He was appointed to this position in 1994 and was responsible for managing both production and non-production purchasing for the company's worldwide operations, including manufacturing materials supplier base, minority/female supplier development, and supplier quality assurance.
Mr. Morabito joined Xerox in 1969. He held various senior management positions, including Director, Latin American Manufacturing Operations. He was then appointed Vice President, Canadian/Latin American Manufacturing Operations; followed by Vice President, Asset Recycle Management, Integrated Supply Chain; and Vice President, Global Purchasing Manufacturing Support. The Executive Committee of Xerox Brazil bestowed the rare honor of naming a street after Mr. Morabito in Resende, Brazil, where the Xerox plant is located.
Mr. Morabito received a Bachelor's Degree in Economics and Business Administration from Alfred University. In 1996, the Greater Rochester Metro Chamber of Commerce named him the International Executive of the Year.