Hans Bossink, President for Europe, Russia, Middle East and Africa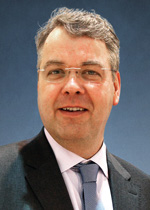 Hans Bossink is President for Europe, Russia, Middle East and Africa.
Hans joined Carestream in 2015, initially to lead the European sales and service organization. In 2016 his responsibility was extended to cover the EMEA region. In his responsibility Hans worked with the local teams to improve the strategies and plans to serve customers across the region in the best possible way, and worked on the improvement of the organizational setup and processes to realize these plans. 

Prior to Carestream, Mr. Bossink worked with various other companies in the healthcare industry, like Samsung, Philips and Nucletron/Oldelft. For more than 20 years he was responsible for the sales and service organizations, working close to customers with the ambition to support the improvement of healthcare delivery by means of meaningful solutions. His main driver is to make an impact on the success of his teams and their customers. 

Hans studied Business Economics at the University of Groningen (Msc.) and Mechanical Engineering in Enschede (BSc.). He works out of the Netherlands.