Midwest Hospital Purchases Carestream's Radiology PACS, Advanced Image Reading, Reporting Tools
Platform Provides Comprehensive Capabilities at Affordable Cost
ROCHESTER, N.Y., May 14 — Broadlawns Medical Center (Des Moines, Iowa) purchased Carestream's Clinical Collaboration Platform (video) with features that include advanced visualization, mammography, 3D, lesion management, PET-CT applications and integrated voice recognition. The company's latest generation of radiology reporting integrates multimedia content such as graphs, tables, images and hyperlinks. These elements add value to traditional reports while boosting productivity and collaboration among healthcare providers.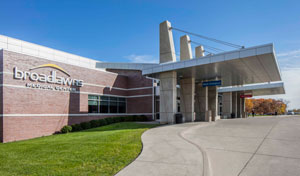 "We need a radiology workstation that supports all modalities including mammography. Our goal is to have radiologists reading all imaging exams on two Carestream workstations. This will create a faster, more efficient workflow at an affordable price," said Yvonne Grant, Radiology Director, Broadlawns Medical Center.
An existing CARESTREAM Cardiology PACS will be integrated into the workflow and both cardiology and radiology exams will be stored in Carestream's Vendor-Neutral Archive that delivers highly secure, reliable storage.
Carestream's Vue Motion Enterprise Viewer will be deployed to provide physicians with convenient access to patient images and reports regardless of their location. Vue Motion is FDA approved for clinical reading on a wide range of mobile devices.
"Rapid access to reports and key images can help referring physicians enhance and expedite treatment decisions," said Ms. Grant.
System administrators will use Carestream's Vue Beyond analytics solution to improve departmental workflow. This module provides real-time monitoring of metrics that include study volume, modality mix, patient type and report turnaround time.
###
About Broadlawns Medical Center
Broadlawns Medical Center, Des Moines, Iowa, has a dedicated staff of more than 1,000 employees and 80 physicians who work together to provide high-quality healthcare that is coordinated, compassionate and cost-effective. The Broadlawns Medical Center campus includes an acute care hospital, emergency services, inpatient and outpatient services, lab and radiology services, mental health services, specialty clinics, dentistry and a 24-hour crisis team. For more information visit www.broadlawns.org.