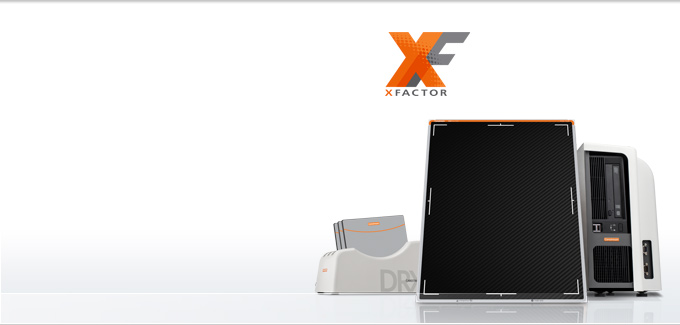 CARESTREAM DRX-1 System
One wireless detector grows with you
The CARESTREAM DRX-1 System offers a quick, easy and affordable way to transition to digital radiography.
Based on the unique X-Factor platform, a wireless DR detector simply slides into existing x-ray equipment and can be used with imaging systems throughout your facility. The detector is also the center point of the DRX Family–a complete line of innovative DR systems including full radiology rooms and mobile x-ray systems.
System Benefits
Wireless Detectors
Featured Videos
X-Factor
System Benefits
A fast, easy way to move into DR medical imaging:

Increased Productivity

Images are ready for immediate viewing and manipulation for  reduced exam time and quick answers in the ER and OR
Images can be quickly forwarded from the console to a printer, PACS archive, and other network destinations
The DRX wireless detector provides cordless positioning freedom
Battery charger simultaneously charges three system batteries
Software options boost facility workflow

Broad Versatility

Designed for many types of general radiography exams
Conventional and CR cassettes can still be exposed in Bucky
Can be installed as an additional unit in a DR exam room
Compatible with many Carestream DR, CR  and health IT systems

Proven DRX Image Quality

Increased latitude and high-contrast image detail with optional DIRECTVIEW EVP Plus Software
Synchronizes with your generator for non-invasive exposure control
System interface ensures the system is ready at the time of exposure.
Wireless Detectors
Featured Videos
X-Factor


Contact Us

To have a sales rep contact you, please use the sales form. For product information or company questions, please use our general form.