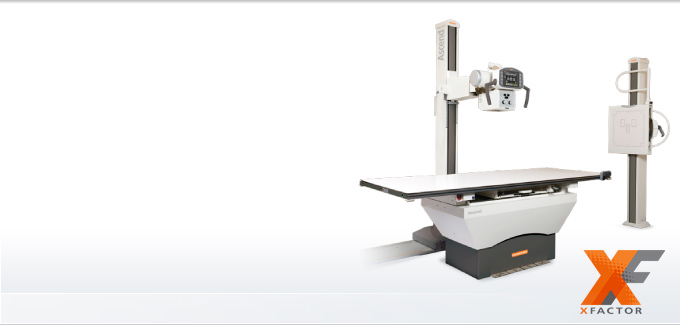 CARESTREAM DRX-Ascend System
High Performance. High Quality. Exceptional Value.
The CARESTREAM DRX-Ascend has just the right option to meet your most pressing needs in the present, with a clear upgrade path for the future. All at a remarkably economical price. Whatever your starting point, your Ascend solution will deliver superb performance and a system that will grow along with you.
Analog or digital
Floor-mount or ceiling-mount tube
Range of table options
An optional portable, wireless DRX detector
TechVision technology
Optional autotracking feature available
System Benefits
System Accessories
Featured Video
Wireless Detectors
X-Factor
System Benefits
Exceptional value, high quality performance for high patient volumes.

Broad Versatility

System can be configured as analog or digital with a tube stand (either floor or ceiling), table, wallstand and accessories to match your budget and workflow needs
Elevating Float-Top Table has a weight capacity of up to 650 lbs and accommodates patient types ranging from pediatrics to adults and wheelchair patients
Image with the wall stand, table or tabletop for single or dual detector scenarios
Share DRX wireless detectors with other DRX systems

Freedom of Movement

Autotracking features allows floor and ceiling tube stand to track with the table or wall stand in the Z axis allowing enhanced workflow and for the technologist to stay by the patients side
Simplify weight-bearing, cross-table and off-table studies with generous range of motion
Control tube stand positioning with fingertip switches on operator hand control
Release all tube stand locks for multi-directional adjustments with a single switch
Assure complete radiographic coverage with expansive longitudinal and transverse travel, column rotation, tube angulation and trunnion rotation

Technologist Productivity

Vertical wall stand includes ergonomically designed EZ-Glide hand control to allow operator image receptor adjustment from comfortable standing position
Rotating detector tray for table and wall stand allows for quick and controlled manual portrait/landscape rotation of the DRX detector without lifting it out of the tray
TechVision™ technology allows the technologist to stay close to the patient during exams with a multi-color touch screen on the tube stand for generator control and image preview within the exam room
Hardware and software options boost facility workflow

 

 

 

 
System Accessories
Featured Video
Wireless Detectors
X-Factor


Contact Us

To have a sales rep contact you, please use the sales form. For product information or company questions, please use our general form.


CARESTREAM DRX-Ascend Interactive Site


Now you can reach the summit of X-ray imaging with the CARESTREAM DRX-Ascend Family. Whether you're just beginning your journey with film, or are ready to move up to CR, DR or our industry-leading DRX systems, we can help you plan a safe and affordable route to the summit of imaging technology. Build your own ideal Ascend System.