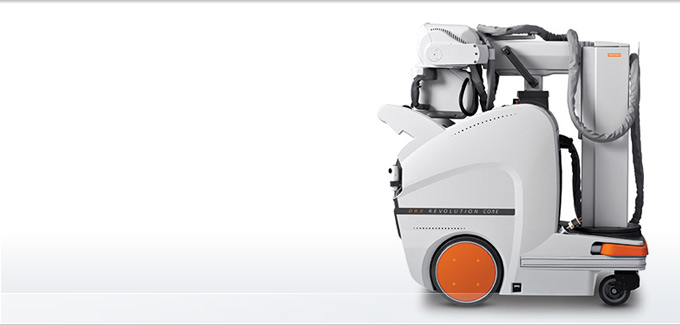 DRX Revolution Mobile X-ray System powered by the DRX Core Detector
Compact. Maneuverable. Economical
If your facility is operating with a tight budget, but won't compromise when it comes to mobile imaging performance, here's the solution for you. The DRX-Revolution Mobile X-ray System, powered by DRX Core Detector,* offers an advanced feature set that makes it easy to take high-quality images right at the bedside – helping improve patient care while you boost your productivity.
* Product is available only in Latin America and Asean countries where registered.
Mobility
Workflow
Wireless Detectors
Mobility
A revolutionary imaging system that drives like a dream.
The tight and cluttered spaces of the ICU, ER and OR are no match for the mobility of the CARESTREAM DRX-Revolution.
So easy to maneuver, you can make a 360-degree turn effortlessly.
An automatic collapsible column shrinks the system to just over four feet tall, giving you complete visibility when moving the system to any location.
The powerful dual motor drive makes moving the system effortless—in forward or reverse.
A long tubehead reach gives you easy access to the patient in crowded rooms.
Touch-screen display enables prior image review, technique changes and image acceptance or rejection
Workflow
Wireless Detectors