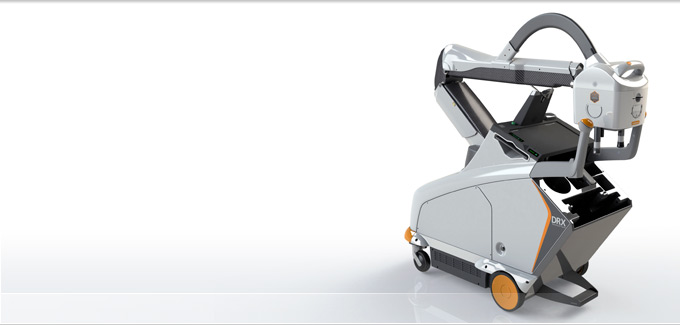 CARESTREAM DRX-Revolution Nano Mobile X-ray System
Revolutionary Performance On A Smaller Scale
Carestream's DRX-Revolution Mobile X-ray System changed the way the industry thinks about mobile imaging. Expanding the Carestream portfolio, we have now developed a fully integrated, digital, budget-friendly mobile system. Called the DRX Revolution Nano Mobile X-ray System, it is designed to deliver both value and performance.
Technology
Mobility
Workflow
Kabellose Detektoren
X-Factor
Technology
The Revolution Nano utilizes Carbon Nano Tube (CNT) Technology, which differs significantly from traditional thermionic tubes. The CNT emitter used in an X-ray tube consists of a large number of carbon nano tubes arranged vertically on a conductive substrate thus replacing the traditional filament.
Mobility
Workflow
Kabellose Detektoren
X-Factor
Erleben Sie den X-Factor der DR-Systeme von Carestream.

Carestream revolutioniert den DR-Bereich und gibt Ihnen die Kontrolle über den Umstieg auf die digitale Technik. Der X-Factor steht für die weltweit erste kabellose Detektorplattform in Kassettengröße, die das Optimum aus Ihrer Investition herausholt. Er erfüllt die Anforderungen von heute und ist gleichzeitig auf das Wachstum von morgen eingestellt. Der X-Factor ermöglicht eine bessere Versorgung der Patienten.

Kompatibel

Eine Einzeldetektor-Plattform für den Einsatz mit einem breiten Spektrum an DRX-Geräten.
Stellen Sie einen vorhandenen Röntgenraum oder ein mobiles System in nur 24 Stunden auf digitale Radiographie um.

Skalierbar

Verfolgen Sie bei Ihren Investitionen einen modularen Ansatz.
Lassen Sie sich eine DR-Lösung maßschneidern, die zu Ihrem Workflow und Ihrem Budget passt.
Fügen Sie DR-Systeme hinzu, wenn Ihre Einrichtung größer wird

Flexibel

Holen Sie das Optimum aus Ihrer DRX-Investition heraus – rund um die Uhr.
Setzen Sie den Detektor abwechselnd in einem mobilen Imaging-Gerät für die morgendliche Visite, in einem DR-System im Röntgenraum am Nachmittag und nachts in der Notaufnahme ein.
Implementieren Sie eine einheitliche, gemeinsame Softwareplattform und beschleunigen Sie die Untersuchungsvorgänge.

Über 11.000 DRX-Detektoren helfen Einrichtungen des Gesundheitswesens weltweit, von den Vorteilen des kabellosen DR und der Carestream DRX-Produktfamilie zu profitieren.

X-Factor. Wird Ihre Einstellung zu DR verändern.