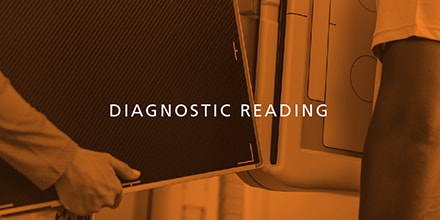 Diagnostic Reading #10: Five "Must Read" Articles on Medical Imaging
Reading Time: 3 minutes read
This week's articles in Diagnostic Reading include: SIR and AHRA cancel upcoming meetings; new research shows CT scans help determine COVID-19 severity; techniques to improve workflow in radiology; time to cut through the AI hype; and mobile stroke units may help reduce disabilities.
SIR and AHRA call off meetings in wake of coronavirus – DOTmed Healthcare Business News
The Society of Interventional Radiology (SIR) and the Association for Medical Imaging Management (AHRA) have joined the list of organizations canceling events worldwide in the wake of the ongoing COVID-19 epidemic. SIR made the decision to cancel its 2020 Annual Scientific Meeting, which was scheduled to take place from March 28 – April 2 in Seattle, and AHRA will not move forward with its 2020 Spring Conference (March 26 – 28) in San Diego.
COVID-19 pneumonia traits help ID and distinguish virus – Diagnostic Imaging
The majority of patients who develop COVID-19 pneumonia share several characteristics visible on CT scans that could help radiologists determine the extent and severity of disease, according to new research published online in the American Journal of Roentgenology. Researchers showed evidence that indicates the shared findings seen on the lung scans of infected patients could help medical professionals rule out other infections that present in similar ways.
Increasing productivity in the radiology department – Everything Rad
Radiology administrators are constantly looking for ways to improve productivity in the imaging department. However, many departments are overlooking some of the time-saving features available in their imaging equipment. Red the blog to learn techniques to improve workflow in the X-ray imaging department.
Cut through the AI hype – Healthcare-in-Europe
It's time to cut through the hype surrounding artificial intelligence (AI) and begin to understand the reality in terms of application in radiology, states an industry expert. Not only is choosing the right application(s) imperative—healthcare providers should ask key questions about what clinical program they want to improve and the clinical challenges they want to address—but they also must focus on effectively embedding it into their workflows. Read the blog on Cost-Benefit Analysis of AI in Radiology.
Mobile units speed up and shorten treatment for stroke, says study – DOTmed Healthcare Business News
Delivering treatment to stroke patients in mobile stroke units speeds up care and may reduce the odds of incurring disabilities, according to researchers. Their study found that prehospital treatment in specialized ambulances that are equipped with CT scanners and labs specifically designed for stroke treatment reduced the likelihood and severity of disability as well as death, compared to administering treatment to patients upon arrival at the hospital in a conventional ambulance.
#everythingrad #diagnosticreading