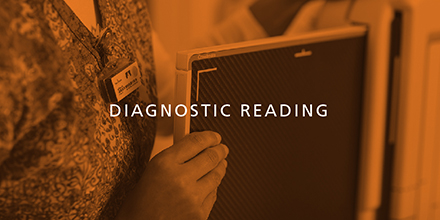 Diagnostic Reading #7: Five "Must Read" Articles on Medical Imaging
Reading Time: 3 minutes read
In the news: the coronavirus and simplifying radiology reports for patients.
This week's articles in Diagnostic Reading include: CT imaging alone is not enough to rule out coronavirus; expert states AI isn't ready to ease radiology workload; PET/MRI identifies new breast cancer biomarkers; informatics could help patients read radiology reports; and CT and 3D printing may 'voice' 3,000-year-old Egyptian mummy.
Radiologist experts say CT alone not enough to rule out the presence of coronavirus – Radiology Business
A team of expert radiologist researchers say that computed tomography (CT) imaging alone is not enough to exclude the presence of novel coronavirus in patients. Scientists noted that in multiple cases, the absence of abnormal CT findings wasn't adequate to rule out the presence of 2019-nCoV, according to a special report published in the journal Radiology.
Is AI biting off more than it can chew in radiology? – Health Imaging
Imaging utilization has skyrocketed over the past 20 years and artificial intelligence (AI) experts have promised that the technology can help ease the workload. But one expert states that the technology isn't ready, according to a recent commentary in Forbes. He pointed to a number of factors, including the fact that AI hasn't yet matured to process and manage the immense datasets required in imaging. Above all else, he maintains AI can't offer the human touch that imaging experts can. Read about Carestream's intelligent imaging and workflow options.
PET/MRI identifies notable breast cancer imaging biomarkers – Imaging Technology News
Researchers have identified potentially useful breast cancer biomarkers that indicate the presence and risk of malignancy, according to a study published in The Journal of Nuclear Medicine. By comparing healthy breast tissue of patients with malignant breast tumors and benign breast tumors, the researchers found that multiple differences in biomarkers can be assessed with PET/MRI imaging. These biomarkers may support screening and risk-reduction strategies.
Informatics tools demystify radiology reports for patients – Health Management
As more patients become engaged in their care, they require healthcare communications—radiology reports, for example—to be more understandable. Imaging informatics could contribute to aiding patient-radiologist communication, according to researchers. As patients may sometimes misunderstand radiology jargon, a research team developed an informatics system that automatically attaches definitions and illustrations to terms within a report. Read the blog on ways to strengthen the patient/radiologist relationship.
Researchers employ CT and 3D printing to recreate voice of mummy – DOTmed Healthcare Business News
Thanks to a combination of CT imaging and 3D printing, the authentic voice of a 3,000-year-old Egyptian mummy may soon be audible to the public. Researchers claim to have used a 3D-printed vocal tract and an electronic larynx to reproduce a sound unique to the vocal range of Nesyamun, a priest who lived in Egypt during the reign of Pharaoh Rameses XI around 1100 B.C. The researchers state this could validate technologies that may help people with voice-related disorders, in addition to providing insights that could change perceptions of history.
#everythingrad #diagnosticreading