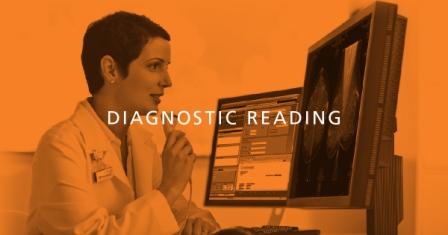 Diagnostic Reading #19: Five "Must Read" Articles on HIT and Radiology
Reading Time: 2 minutes read
Another week of AI in the headlines; plus articles on reporting and automation in radiology.
This week's articles in Diagnostic Reading include: workflow automation for select radiology protocols; lessons for radiologists in the business world; the importance of early AI adoption; how interactive media could elevate radiology reports; and evolving expectations in AI.
Order entry workflow could be a prime target for automation – Health Imaging
Radiologists or technologists who manually select protocols for commonly ordered exams rarely add value—making protocol selection a prime target for workflow automation—according to research published in the Journal of the American College of Radiology. The authors stated that an automated or semi-automated system to select protocols would save a substantial amount of time and resources.
Roll with the changes: 3 lessons radiologists can learn from today's fast-paced business world – Radiology Business
Big changes are everywhere in today's business world, according to a recent study published in the Journal of the American College of Radiology. Lessons radiologists can take away from the rapidly changing business landscape include embracing artificial intelligence, optimizing content and learning from younger generations.
Radiologists need to adopt AI early to secure future – Aunt Minnie
Much of what radiologists do today will be automated in the future, and it would benefit them to adopt artificial intelligence early to ensure their future value in healthcare, according to a recent presentation at the Canadian Association of Radiologists (CAR) annual meeting in Montreal. The presenter believes the role of the radiologist in the future will likely no longer be to read 100% of the imaging studies; it may evolve into identifying the 7% of the time that the machine is incorrect.
How interactive multimedia could elevate radiology reports from 'archaic' to innovative  – Radiology Business
Imaging reports may consume most of a radiologist's day-to-day duties, but supplementing those reports with interactive multimedia could actually boost efficiency while adding value to conventional reporting, according to two Virginia clinicians. In their Journal of the American College of Radiology article, the clinicians said the idea of integrating multimedia into radiology reports has been around for at least two decades, though it's not standard in the U.S. Read the blog on The Next Generation of Multi-Media Reporting in Radiology.
Evolving expectations – Radiology Today
The rise of deep learning artificial intelligence (AI) in today's society has been swift. In healthcare, AI has begun to transform the ways that hospitals, physicians, and patients interact. AI technology is rapidly evolving in the radiology field particularly, where the interpretation process is heavily dependent on image-based findings.
Radiology Room Design in the UK – Everything Rad
A new diagnostic imaging system has the potential to touch hundreds of stakeholders in a healthcare facility. But leading up to the moment when the first image is captured is about five weeks of room design, intricate planning, and tight coordination of multiple suppliers. Learn about the roles of planning and project management in this week's blog on Everything Rad.
#everythingrad #diagnosticreading