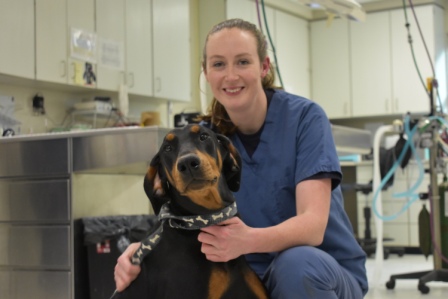 IMÁGENES DIAGNÓSTICAS EN MEDICINA EN ALBERGUES
Reading Time: 3 minutes read
La radiografía digital es una parte integral de la medicina veterinaria.
Por Dr. Christine Garvey, veterinario, CVA, veterinaria, Lollypop Farm, Humane Society of Greater Rochester.
En Lollypop Farm, Humane Society of Greater Rochester, nuestro objetivo es brindar el mejor apoyo posible a los animales bajo nuestro cuidado. Las imágenes de diagnóstico a menudo son un primer paso importante en la medicina de refugio si un animal tiene problemas de salud o lesiones. Considera la historia de un adorable joven doberman llamado Mercedes.
Fue admitida en Lollypop Farm en una tarde de otoño. Mercedes había escapado recientemente de su patio y había sido atropellada por un automóvil. Sus dueños, incapaces de cuidarla, recurrieron a Lollypop Farm en busca de ayuda.
Gracias al generoso apoyo de la comunidad, nuestro refugio para animales incluye un moderno hospital veterinario. Soy parte de un equipo que incluye tres veterinarios, nueve técnicos veterinarios con licencia y cinco asistentes veterinarios. Proporcionamos atención médica integral para los animales que se nos entregan y esterilizamos o castramos a todos los animales antes de la adopción. Nuestro equipo veterinario también puede tratar enfermedades y lesiones, casi todo lo necesario para ayudar a los animales sin hogar a sanar y enviarlos a nuevos hogares.
Mercedes estaba atontada por los medicamentos para el dolor, pero dulcemente dio besos mientras examinamos sus adoloridas piernas rotas. Mercedes resultó gravemente herida, sabíamos que teníamos que ayudarla.
Después de ese examen inicial, se hizo una radiografía de la pierna más severamente lesionada. El tibia de Mercedes se había astillado en numerosas piezas. Pudimos enviar las radiografías a un especialista que nos ayudó a determinar el plan de atención más apropiado para Mercedes. Sin una máquina digital de rayos X, casi con seguridad habría perdido la pierna.
Las imágenes digitales conectan a los animales de refugio con los especialistas
La radiografía digital de diagnóstico se ha convertido en una parte integral de la medicina veterinaria en Lollypop Farm. Nuestra clínica observa una amplia variedad de opcines para quienes se indican rayos X: desde traumas hasta cálculos vesicales y obstrucciones intestinales. Somos capaces de interactuar con algunos de los mejores especialistas del mundo sin tener que abandonar el refugio. Nuestro software de radiografía nos permite enviar imágenes de alta calidad por correo electrónico a los radiólogos veterinarios del Hospital de animales de la Universidad de Cornell. Estos expertos donan su tiempo para ayudarnos a cuidar a los pacientes más vulnerables. La radiografía digital nos permite formular planes de tratamiento adecuados, que van desde medicamentos o suplementos hasta cirugía abdominal, y en última instancia, salvar vidas en un entorno de refugio.
La historia del refugio de Mercedes aún no ha terminado. Fue transferida al cuidado del especialista que tomó más imágenes y realizó una cirugía ortopédica avanzada. Actualmente vive en la clínica veterinaria de Lollypop Farm, donde recibe diariamente cambios en los vendajes, medicamentos y otros cuidados. Esta chica despreocupada siempre está lista para acurrucarse con una gran sonrisa de perro tonto en su rostro. El camino hacia la recuperación de Mercedes será largo, pero las imágenes de diagnóstico lo hicieron posible.
La Dra. Christine Garvey, DVM, CVA, veterinaria, trabaja en Lollypop Farm, Humane Society of Greater Rochester
Read the blog in English.
#radiografía #animales de refugio #veterinaria
#EverythingRad