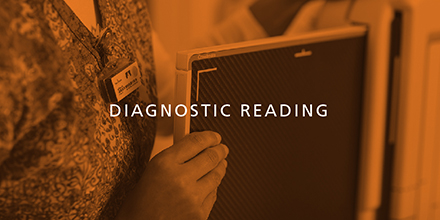 Diagnostic Reading #39: Five "Must Read" Articles on HIT and Radiology
Reading Time: 3 minutes read
Resilience and burnout in radiology make headlines this week.
This week's articles include: more communication may be necessary to inform women of mammography harms; guidelines can help healthcare organizations with visual analytics and big data dashboards; a solution that might help burnout among radiologists; professional collaboration and teamwork prevail during a dangerous hurricane; and striking the right balance in a radiology team.
Women still value mammography's benefits over 'harms'  – AuntMinnie.com
Authors of a study in the October issue of Medical Care believe that more communication is needed to convince women that they should take mammography's "harms" more seriously. According to this research—which questioned whether overdiagnosis is important to women undergoing breast screening— fewer than 20% of respondents to their survey knew about breast cancer overdiagnosis and overtreatment.
Using visual analytics, big data dashboards for healthcare insights – Health IT Analytics
One of the biggest overarching problems in the healthcare industry is that big data isn't very usable yet. Many electronic health records and business intelligence systems still struggle to deliver at-a-glance insights that could potentially revolutionize the way providers work. However, visual analytics and big data dashboards can provide valuable insights to healthcare organizations if they follow important guidelines.
Coordinator service bolsters radiologists' efficiency – AuntMinnie.com
Burnout among radiologists is on the rise, with one of the principal contributing factors being workplace inefficiency. In a paper recently published online in the Journal of the American College of Radiology, researchers from NYU Langone Medical Center offer a solution—the creation of a reading room coordinator—specifically intended to mitigate radiologist burnout by performing many of the tasks handled by radiologists that don't involve image interpretation.
Radiologists show resilience during Harvey – AuntMinnie.com
Hurricane Harvey—which hit parts of the Houston, Texas area in August with more than 40 inches of rainfall—flooded and damaged numerous buildings, including Ben Taub General Hospital. However, rather than overwhelming radiologists and radiology staff, the crisis brought out their best with interprofessional collaboration and teamwork.
Striking a balance between 'givers,' 'takers' and 'matchers' in a radiology team – Radiology Business
Individuals in any given radiology team can be considered "givers," "takers" and "matchers," and according to a recent study published by the Journal of the American College of Radiology, striking the right balance between those qualities can help leaders improve both productivity and morale. The study's author states that an effective radiology leader must be aware of these diversities; this allows the leader to position and reward the members individually to maximize productivity and decrease interpersonal conflicts.
Blog of the week: patient-centered care in radiology – Everything Rad
Radiologists can learn practical advice for becoming more patient centered in part two of our three-part blog series on the topic.
Check back next Friday for a new issue of Diagnostic Reading. #healthIT  #radiology #diagnosticreading #EverythingRad