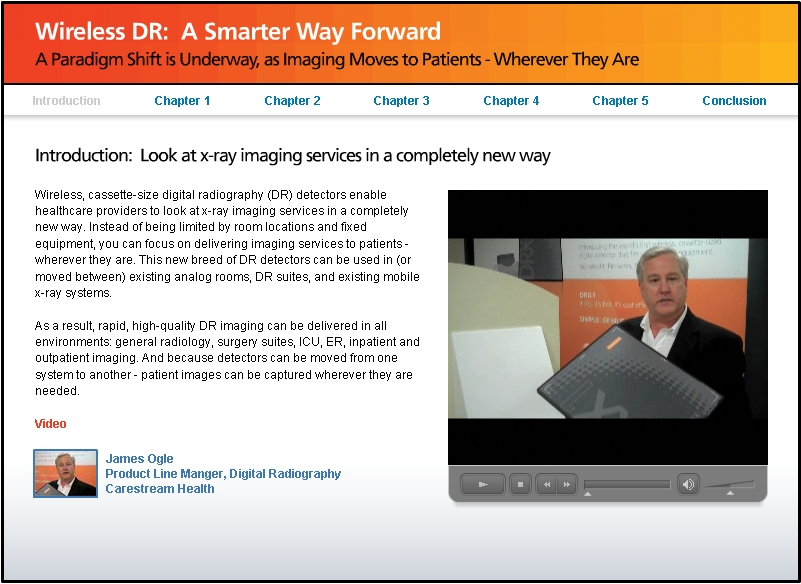 Finally, a DR Detector That Moves With Your Workflow
Reading Time: 1 minute read
A DR detector that moves with your workflow.
That's what healthcare facilities need—and now they can achieve it. With capital budgets stretched tighter than ever before, healthcare facilities want to move detectors to wherever they are needed. Carestream Health is the only supplier that enables customers to insert a DR detector into a mobile system for early morning rounds, move it to an in-room system for day use and then use it in the ER at night.
Our wireless, cassette-size DRX detector makes it possible to convert existing x-ray rooms to DR in just a few hours. A removable detector provides unprecedented positioning flexibility for automated DR suites, and specialized retrofit kits enable DR detectors to be used with many existing mobile x-ray systems. A multi–battery charger ensures the detector is available for continuous use, 24 x 7.
Our DRX solutions deliver an entirely new paradigm for imaging services by freeing healthcare providers from the traditional restrictions imposed by fixed equipment and room locations. We offer two multi-use detectors, three systems and proven performance at more than 1,000 installations worldwide. Hear how DRX users are achieving dramatic productivity gains, higher image quality and unmatched ROI by viewing our eBook.