ROCHESTER, N.Y., Oct. 28 — Carestream Health will share its newest additions in digital radiography detectors and imaging software at the upcoming virtual Radiological Society of North America (RSNA) conference.
The company has expanded its detector portfolio since becoming the first to introduce a wireless, cassette-sized digital radiography (DR) detector for X-ray imaging over a decade ago. Today it offers detectors in multiple sizes, ranging from small-format units with greater positioning flexibility to a large format detector, especially designed for long-length imaging.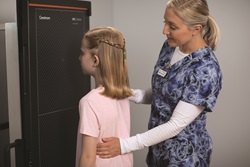 "Since our first wireless detector was introduced, we have continued setting new standards in efficiency, reliability and affordability," said Jill Hamman, Worldwide Marketing Manager at Carestream. "Our DRX Plus detectors feature the unique X-Factor platform, which means the detectors can be shared with any DRX system. So, a facility can leverage the investment in their detectors and continuously move the detector where it is needed most."
The DRX-L Detector is Carestream's newest large-format detector with an expanded field of view to capture long-length images of the leg or spine. Unlike multi-shot DR exams, the DRX-L (see video link) captures high quality images in a single exposure. "The single exposure drastically reduces the time required for patients to stand still and minimizes repeats due to movement," Ms. Hamman said. "Image capture can be completed in less than one second, compared to 15 seconds or more when using a multi-shot DR approach." The system uses Eclipse Image Processing for extraordinary image quality and since it is captured in a single exposure, it provides one unified image with no need for manual stitching or manipulation due to patient movement. This allows for more precise measurements and a higher degree of confidence in treatment planning.
Carestream's Focus detectors—available in two sizes, 35x43 and 43x43—provide a retrofit solution for sites currently using film or computed radiography (CR) to upgrade to wireless DR technology, when paired with Image Suite Software. "This eliminates the price barriers of purchasing a full DR system, as the detectors fit into an existing table and wall stand Bucky," Ms. Hamman said. "The wireless design allows for easier positioning of the detector and reduces trip hazards. Focus detectors use cesium scintillators to help lower radiation dose, while maintaining excellent image quality."
Carestream's Eclipse is the engine behind its innovative imaging software platforms. It uses proprietary algorithms and artificial intelligence (AI) to amplify the value of the entire imaging chain, from capture to diagnosis. "Our Eclipse engine powers a variety of image processing features that provide superb image quality, consistent presentation, custom preference looks and dose efficiency," Ms. Hamman said. The Eclipse engine also supports workflow efficiency with image acquisition features to automate workflow steps that allow for faster exams, more streamlined processes and enhanced patient care.
"All of this results in an enriched workflow and a higher degree of diagnostic confidence to provide the best possible patient care," Ms. Hamman added.