Valerie Singleton Celebrates Carestream and Yeatman Hospital's Radiology Renovation
HEMEL HEMPSTEAD, July 13 — As part of recent works to modernise its radiology department, Yeatman Hospital in Sherborne, Dorset, has installed a CARESTREAM DRX Ascend X-ray room. Along with more physical space and improved patient privacy, the radiology team now benefits from access to the most advanced x-ray technology available, with significant improvements to image quality, department workflow and staff and patient experience. Locally-based radio and television presenter Valerie Singleton was invited to help celebrate the opening of the new facilities, which will be used by between 150 and 200 patients each week.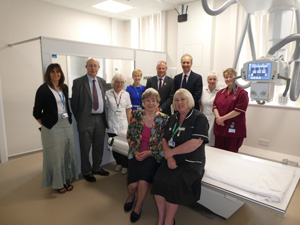 Back row (L-R): Sara Froud (Locality Manager); Dr Nick Bathurst; Wendy Jackson (Radiographer); Suzanne Holloway (RSM), Mark Stewart (Carestream); Dr Jeremy Hacking; Sue Hughes (Radiographer); Teresa Clark (Assistant). Front row (L-R): Valerie Singleton (OBE), Anne Hiscock (Hospital Matron).
One of 12 sites run by the Dorset Healthcare University NHS Foundation Trust, Yeatman Hospital was founded in 1886. It has a long history of providing quality care and, in keeping with the Trust's status as a University Trust, an ongoing need to drive innovation, promote clinical excellence and attract and retain quality staff. However, its radiology department had become outdated and was in desperate need of a refresh. To that end, Dorset HealthCare invested £275,000 to transform the department's facilities and install the latest equipment.
This includes the new DRX Ascend x-ray room. Carestream's flexible DRX Ascend system can use analogue or digital equipment on a floor- or ceiling-mount tube. It can be built to fit a customer's exact needs, space and budget. Yeatman Hospital's new room is fitted with a fast and reliable wireless Carestream DRX detector, providing instant access to images, reducing the need for cables and making it possible to share detectors between DRX rooms and mobile DRX systems where required. The system has been developed to accommodate a range of patient types, from paediatrics to adults and people with reduced mobility.
Staff at Yeatman Hospital are very pleased with the new installation: 'We can confidently say we are now giving patients the highest standards of care, using the latest x-ray technology,' said Suzanne Holloway, Radiology Manager at the Trust. 'Since installing the new room in April, patients have benefited from reduced scanning and waiting times, as well as reduced doses from the equipment, while staff can make more accurate diagnoses thanks to improved image quality.'