Growth in Orders Drives IT Expansion at Carestream
Internal Promotions and New Appointments Will Support Increasing Demand for the Company's PACS, RIS and VNA Solutions
HEMEL HEMPSTEAD, July 19—Carestream Health is expanding its UK and Ireland and European IT teams to support ongoing growth in demand for its PACS, RIS and VNA solutions. This is being achieved through both external recruitment and internal promotions, allowing the teams to build on the expertise of existing staff and bring in new people.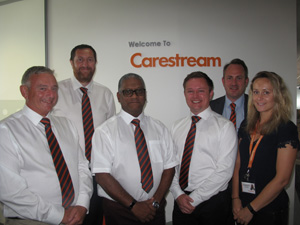 (L-R) Ron Ridge, Neil Lewis, Jes Satahoo, Jason Plastow, Steve Sparks, Harriet Warren
Norman Pinkney, HCIS Services Delivery Manager, UK&I, Steve Sparks, Services Delivery Manager, England, Wales, Ireland & NI and Lorenzo Casanova, Europe Service Support Manager, are pleased to announce that from July 2:
Ron Ridge and Harriet Warren are appointed to the position of HCIS Account Service Delivery Managers
Neil Lewis is appointed to the position of Clinical / Technical Application Specialist Team Leader
Jason Plastow is appointed to the position of Technical Implementation Specialist Team Leader
Jes Satahoo is appointed to the position of Acting Incident Support Manager
Two additional Incident Support Specialists and a Clinical Application Specialist are currently being recruited.
"These are exciting times for our business," said Charlie McCaffrey, Managing Director of Carestream Health UK. "This expansion of our Service Team is vital to support our expanding installed base of PACS, RIS and VNA solutions, as increasing numbers of customers seek the benefits our workflow solutions can bring to their facilities. It will also support the refresh programmes underway in our existing customer sites and our expansion into Enterprise Imaging as we increasingly incorporate imaging from departments outside of Radiology, into our platform."