Miguel Nieto, President of the Latin America Region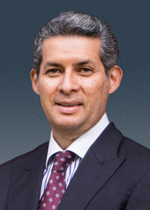 Miguel Nieto is President of the Latin America Region at Carestream. He is a member of the company's senior executive leadership team and directs all businesses in the region. In this role, he is responsible for all customer focused initiatives and business operations in LAR. Over the past 30 years, at Carestream and previously at Eastman Kodak Company, Mr. Nieto held a variety of leadership positions in the areas of manufacturing, supply chain, quality, service and sales in Latin America, in the health, consumer and graphic arts imaging industries.
In 2012, Mr. Nieto joined Carestream to lead the Global Customer Care division in Latin America, a position he held until the end of 2015. In these years, he was responsible for directing and transforming customer service operations in all Latin American countries, transforming this division into a business model with high standards of service for customers.
In 2016, he took on the challenge of directing Carestream's commercial operations in Mexico, and in October of that same year, he was appointed as Mexico´s General Manager.
Mr. Nieto has an Industrial Engineering degree from Instituto Tecnológico de Estudios Superiores de Occidente (ITESO) in Guadalajara, and a Master´s degree in Business from Tecnológico de Monterrey.