Collaboration has become a key component of today's healthcare system. Department silos are breaking down and fading away, and from the rubble is born multidisciplinary teams with a focus on interoperability across departments.
Meaningful Use (MU) has served as a great incentive to make patient information universally available to clinicians through the EHR, but too often the collaborative benefits of the technology fail to become available to the "-ologies" in the health system.
But there are examples of successful collaboration delivering real benefits to the medical community and patients.  One of the best is the University of Virginia (UVA), where the EHR-driven radiology workflow not only provides full clinical information to radiologists, but the collaborative workflow adopted by UVA has also helped the UVA Physicians' Group attest to MU Stage 1 and receive nearly $1.5 million.
Cree Gaskin, MD, Vice Chair, Informatics at UVA outlines their process in a recent chapter of our CIO eBook. The key to this EHR-driven radiology workflow was the life-cycle of the PACS. Specifically, the fact that it has reached a maturity level that is the third and final phase of the evolution, as seen in Dr. Gaskin's graphic below.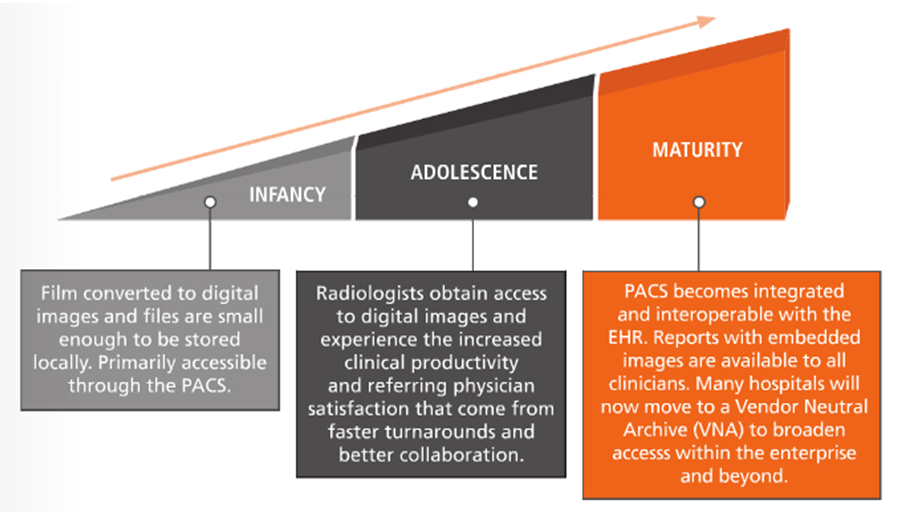 This third stage involves the PACS becoming integrated and interoperable with the EHR. This allows workflow to become optimized, and images and reports to become accessible via the EHR. From this, collaboration among clinicians and other stakeholders is supported in full and information can be accessed immediately. This ongoing gathering of data informs clinical decision support and big data analysis.
From within the EHR, the radiologist can identify what would be useful, depending on the case. That information can then be served up to radiologists so they do not have to spend time searching for it. If the information is identified in advance, then it can be made accessible, as almost all of the necessary data is housed in UVA's EHR.
The key is to establish an EHR-driven workflow, as demonstrated here in Dr. Gaskin's graphic.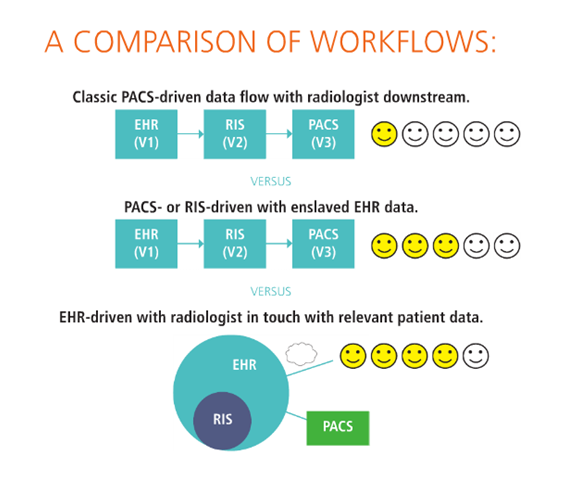 How it works at UVA is that one central login at a workstation allows access to:
Protocoling
Reading Studies
Chart reviews/search
MU
Teaching file
Tech work lists
Manager referrals
Audit trail
Report creation and signing
MD performance metrics
Administrative reports
Peer review (prior while reading)
Charting—orders, notes
"Watch patients; results tracking
Communication with providers
The interoperability between UVA's Epic EHR and Carestream PACS permits the EHR-driven workflow or the EHR-enslaved workflow which is PACS-driven. In the PACS-driven workflow, the doctor selects a study from the PACS integrated worklist, and the corresponding patient record will be opened in Epic.
UVA reports that the results of such capability have included improved report turnaround time (RTAT), and more important, with stratification by level of priority, and nearly $1.5 million MU Stage 1 incentives for the UVA Physicians' Group.
For a more detailed look at UVA's story, you can read the interactive eBook, "Clinical Workflow in an Era of Interoperability," which contains interviews and soundbites from Dr. Gaskin, as well as Dan O'Malley, MS, UVA's director, informatics and business services.
Julia Weidman is the Healthcare Information Solutions Marketing Manager for the US and Canada at Carestream.