Carestream Health Showcases Industry's First Wireless, Cassette-Size DR Detector At RSNA
Company Also Demonstrates New Image Processing Software for CR and DR Systems
CHICAGO, Nov. 30 — Carestream Health, Inc., demonstrated the industry's first wireless, cassette-sized digital radiography (DR) detector, the CARESTREAM DRX-1 System, as a work in progress at the Radiological Society of North America's conference this week. The company also showcased a new generation of image processing software for its CR and DR platforms, and a new long-length imaging system for its DR 7500 system.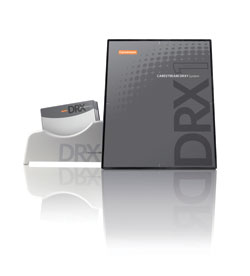 "The innovation behind our new wireless DR detector and our latest software platform sets us apart from other companies because we have designed these digital systems to solve workflow and productivity challenges that healthcare providers face every day," said Diana L. Nole, President, Digital Medical Solutions, Carestream Health. "Our solutions are helping customers around the world achieve the benefits of an all-digital workflow at a lower cost. This enables them to improve patient care while reducing expenses."
Imaging services providers that have seen advance previews of the new DR detector compliment its affordability and productivity. Since this new detector can be employed in all applications where a 14 x 17 inch (35 x 43 cm) x-ray cassette would be used, it can be easily incorporated into all types of radiology environments and does not require modification of existing rooms.
"The easy transition and affordable price offered by the new DRX-1 system should lead to increased use of DR—which enables greater productivity because it is faster than CR or screen-film systems. It also can offer better image quality, with the possibility of reduced exposures and less radiation dose to patients," said Dr. Peeter Ross, M.D., a radiologist at East Tallinn Central Hospital of Estonia.
In addition to high-volume departments and imaging centers, its speed and affordability will make it an excellent choice for emergency departments, operating suites and portable exams.
"The DRX-1 detector's ability to fit into standard x-ray equipment will make it an affordable, easy digital transition for all types of imaging applications. Wireless communication is a huge benefit because a cable can get tangled and stepped on—and it's an asset for infection control," said Rick Perez, BS, RT, CRA, Administrative Director, Winthrop University Hospital of Mineola, N.Y.
The DRX-1 system will deliver high-quality preview images in about five seconds. Its compact size and light weight further enhance convenience and throughput. The CARESTREAM DRX-1 System will be available in many regions of the world in the first quarter of 2009.
New Image Processing Software Delivers Important Benefits
The company also showed new operating software for its CR and DR portfolio that contains KODAK DIRECTVIEW EVP Plus, which provides more consistent image presentation and allows for simple and independent control of brightness, latitude, detail contrast and other parameters. In addition, a new tool available with EVP Plus allows for images to be calibrated to radiologist preferences, which optimizes image presentation and reduces the need for reprocessing. The software also supports a virtually unlimited number of body parts and projections.
The new software's proven interface protocols facilitate the communication of images and information to the PACS; ensure the simple and easy processing of patient studies and demographic information; and deliver consistent images in soft copy and hard copy formats. As with the company's past software versions, a similar user interface for CR and DR platforms improves technologist productivity and reduces the need for training.  
Carestream Health also demonstrated its new long-length imaging system for its KODAK DIRECTVIEW DR 7500 platform that uses a tube tilting method to improve image alignment and reduce space requirements. This system provides efficient, automatic acquisition and stitching of up to five exposures and can produce images that are 17 inches (43 cm) wide and up to 64.5 inches (164 cm) in length. The fully automated software eliminates the need to orient or align images and incorporates basic orthopaedic measurement tools.   
Carestream Health's digital radiography portfolio includes: the KODAK DIRECTVIEW DR 9500 System with a ceiling-mounted U-arm that contains both a tube and detector to deliver unprecedented mobility and operational flexibility; the KODAK DIRECTVIEW DR 7500 System that offers outstanding flexibility with single- and dual-detector configurations and wall stand and table options; and the KODAK DIRECTVIEW 3500 System that delivers the small footprint, functionality and convenience required by a broad range of healthcare facilities.
The company offers a comprehensive family of tabletop, mobile, single- and multi-cassette CR systems. Carestream Health's broad portfolio of CR and DR systems equips hospitals, outpatient imaging centers, orthopaedic practices and other healthcare providers with digital image capture for x-ray imaging studies.
###
About Carestream Health, Inc.
Carestream Health, Inc., is a leading provider of dental and medical imaging systems and healthcare IT solutions; molecular imaging systems for the life science research and drug discovery/development market segments; and x-ray film and digital x-ray products for the non-destructive testing market. The company was formed in 2007 when Onex Corporation (TSX: OCX.TO) purchased Eastman Kodak Company's Health Group. For more information about Carestream Health, contact your Carestream Health representative or visit www.carestreamhealth.com.
CARESTREAM and DIRECTVIEW are trademarks of Carestream Health, Inc.
KODAK is a trademark of Kodak used under license.
2008