Carestream Health Announces First-Ever SuperPACS™ Architecture To Integrate Existing Multi-Vendor, Multi-Site PACS
This Work in Progress Will Provide a Global Patient Worklist, Support Multiple Patient IDs, Allow Efficient Sharing of Patient Information and Images
November 30, 2008
CHICAGO, Nov. 30 — Carestream Health, Inc., today announced a first-ever SuperPACS™ Architecture designed to integrate multi-vendor, multi-site PACS into an efficient enterprise solution.
This new architecture will equip healthcare providers to streamline workflow—using existing PACS resources—since it will enable the sharing of patient images and information, while also delivering a global worklist that balances exam reading among on-site and off-site radiologists. The Super PACS Architecture, currently a work in progress, will be available for order in the second quarter of 2009. It was shown for the first time at the Radiological Society of North America's annual meeting this week.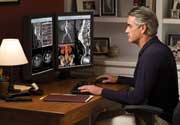 "Healthcare providers around the world need the ability to manage disparate radiology solutions at multiple locations without replacing existing RIS/PACS systems," explained Diana L. Nole, President, Digital Medical Solutions, Carestream Health. "This new infrastructure will also enable healthcare facilities to share patient information and enhance collaboration among clinicians. Ultimately this platform is intended to help improve the quality of patient care while simultaneously boosting productivity and resource utilization." 
The new Super PACS Architecture communicates with legacy systems to drive greater productivity and efficiency through its ability to:
Create a common global worklist and apply intelligent rules to balance workload so that exams captured throughout the enterprise can be read by radiologists in any on-site or off-site location; 

Define the global worklist to include routing to specialists;

Support multiple patient identification numbers using IHE profiles;

Share patient information and images securely between all locations; and

Equip radiologists with a unified set of powerful diagnostic tools.
This architecture is designed to reduce expenses by maintaining use of existing PACS and storage devices and allowing for consolidation of resources. As part of its workflow grid, the new architecture can synchronize disparate PACS. Images and reports are automatically sent back to the original PACS or RIS for local storage and distribution.  
The Super PACS Architecture is expected to be implemented by hospitals and healthcare enterprises, regional health networks, single- or multi-site imaging centers, reading groups and teleradiology services.
Company Also Launches New Generation of RIS/PACS  
Carestream Health also introduced a new generation of its flexible, fully integrated RIS/PACS platform as a work in progress at RSNA. The new Web-based CARESTREAM RIS employs a Microsoft® .NET architecture, which will offer tremendous flexibility and scalability in a thin-client solution. This architecture will allow users to refine features to automate workflow and speed implementation. It also will deliver secure remote access for physicians; enable greater collaboration using IBM Sametime™ technology; and offer an optional portal that allows patient scheduling within parameters set by healthcare providers.
The new CARESTREAM PACS will help increase radiologist productivity with a unified virtual desktop that can facilitate faster reading of CT, MR and PET/CT exams through automatic registration. It also will offer an innovative "power viewer" that builds a single virtual study with real-time volume matching of all relevant studies (new and prior) to automatically register and synchronize them in one click.
                                                                                ###
About Carestream Health, Inc.
Carestream Health, Inc., is a leading provider of dental and medical imaging systems and healthcare IT solutions; molecular imaging systems for the life science research and drug discovery/development market segments; and x-ray film and digital x-ray products for the non-destructive testing market. The company was formed in 2007 when Onex Corporation (TSX: OCX.TO) purchased Eastman Kodak Company's Health Group. For more information about Carestream Health, contact your Carestream Health representative or visit www.carestreamhealth.com/.
CARESTREAM is a trademark of Carestream Health, Inc. Lotus and Sametime are registered trademarks of IBM Corporation. Microsoft and Windows are trademarks of Microsoft Corporation.
KODAK is a trademark of Kodak used under license.
2008