Shannon Medical Center Installs Six Carestream Room and Mobile Digital X-ray Systems
400-Bed Facility Delivers Primary and Emergency Care For 25 Counties in West Texas
ROCHESTER, N.Y., March 20 — Shannon Medical Center (San Angelo, Texas) installed two CARESTREAM DRX-Evolution Plus Systems (video), one CARESTREAM DRX-Revolution Mobile X-ray System and converted three mobile imaging systems to digital radiography with CARESTREAM DRX detectors.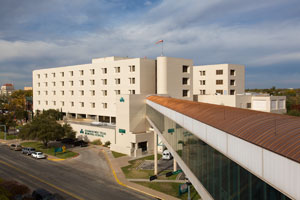 These imaging systems give physicians and specialists at the 400-bed hospital rapid access to patient images to expedite diagnosis and treatment. The hospital is a primary service provider for residents of 25 counties in Southwest Texas. The imaging systems were purchased from Southwest X-ray (Dallas, Texas), an authorized dealer for Carestream medical imaging systems.
"Carestream room and mobile imaging systems significantly enhance both image quality and productivity. The DRX-Evolution Plus systems capture cross-table exams as well as standing hips and knees, bone, pediatric and general radiology exams," said Fernando Tapia, Radiology Director, Shannon Medical Center. "Our physicians and surgeons are extremely pleased with our ability to deliver high-resolution images in minutes."
The DRX-Evolution Plus has a table that accepts patients up to 650 pounds and lowers to 21 inches. "This table is easily accessible for severely ill and injured patients and provides greater convenience and safety for our patients and our technologists," Mr. Tapia explained.
A DRX-Evolution Plus in the radiology department has a motorized tube stand and a four-way floating table. The tube moves into alignment with the table to capture complex studies including cross-table, tomography and intravenous pyelogram exams used for urology conditions, as well as patients on stretchers.
A DRX-Evolution Plus system in the Emergency Department performs imaging studies of patients presenting with a variety of injuries and illnesses. Detectors are easily pulled from the table Bucky and used for tabletop, cross-table, extremity and orthopaedic exams.
The hospital also deploys a DRX-Revolution system for bedside imaging and retrofitted three existing portable systems with Carestream DRX detectors. Carestream's PICC line enhancement software improves visualization of a line used to deliver intravenous antibiotics, nutrition or medications.
The hospital's mobile X-ray imaging systems expedite the capture of high-quality medical images throughout the ED, OR suites, inpatient units and other areas within the radiology department.
###
About Shannon Medical Center
For more than 80 years, Shannon Medical Center has served the greater San Angelo area, growing with the community and serving its healthcare needs. Our facility is licensed for 400 beds and provides a variety of clinical services to meet each patient's needs. We are the designated lead level 3 trauma center for the region, have a nationally recognized intensive care unit, provide critical care to newborns as young as 28 weeks gestation, perform state-of-the-art diagnostics in our radiology department and provide complete testing and surgical capabilities for the cardiology patient among many more services. Shannon Clinic offers more than 200 practitioners, representing 30 medical specialties in 16 different locations. For more information please visit www.shannonhealth.com.