Carestream Announces New Ceiling-Mounted Tube Option For DRX-Ascend Imaging System
DRX-Ascend Offers Cost-Effective, Fully Featured X-ray Imaging for Hospitals, Imaging Centers, Orthopaedic Practices and Urgent Care Clinics
ROCHESTER, N.Y., Aug. 21 — Carestream has added a ceiling-mounted tube option for its DRX-Ascend System to provide versatile positioning for a variety of imaging exams. The DRX-Ascend System also offers a floor-mounted tube stand, wall stand and a choice of an elevating float-top table or non-elevating table. The new ceiling-mounted tube option is currently available for order and begins shipping in August.
"The DRX-Ascend delivers cost-effective, fully featured imaging that allows hospitals, imaging centers, orthopaedic practices and urgent care clinics to select a configuration that satisfies their imaging workflow and budget," said Heidi McIntosh, Global Marketing Manager for X-ray Solutions. "DRX-Ascend users and other healthcare providers are interested in a ceiling-mounted tube because it can deliver flexible patient positioning that helps technologists perform imaging exams in less time, which can lead to greater productivity."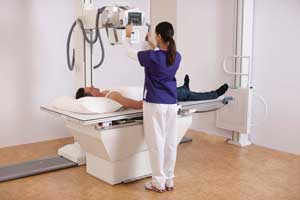 The DRX-Ascend System can be configured with DRX-1 and DRX-1C detectors. Both detectors fit into the standard Bucky used in X-ray wall stands and tables. In addition, Carestream's small-format 25 x 30 cm detector, the DRX 2530C, can be used for orthopaedic and tabletop exams. Customers can also opt to install a fixed 43 x 43 cm detector for the wall stand.
Carestream's multi-color touch panel screen mounted at the tube stand gives technologists remote generator control, displays image previews and allows review of previous images for the current patient. The DRX-Ascend system offers several detector holders to help technologists perform cross-table lateral exams as well as other specialty views. Facilities can use a single DRX detector with the system or opt for two or more detectors to maximize productivity and efficiency.
The DRX-Ascend offers users the benefits of Carestream's advanced image processing software and a consistent user interface across Carestream's computed radiography (CR) and digital radiography (DR) systems facilitates a smooth transition from CR to DR technology. 
Carestream's DRX family of systems offers fully featured mobile X-ray imaging systems and DR rooms, and equips healthcare providers convert existing X-ray rooms and portable systems from CR to DR using DRX detectors. The company's X-Factor flexibility allows any DRX detector to be used with any DRX system.