Carestream Receives Certificate of Merit for the Best Customer Service in Healthcare
Mumbai, India, November, 2016 - Carestream Health India Pvt. Ltd, worldwide provider of dental and medical imaging systems, has received the Certificate of Merit for Best Customer Service at the ABP News Healthcare Leadership Awards ceremony recently. Organized by the World Marketing Congress in association with ABP News, the award function was held in Hotel Taj Lands End in Mumbai on Wednesday, November 24. The ABP Healthcare Leadership Awards are given to the best healthcare organizations for the outstanding work done by them in healthcare.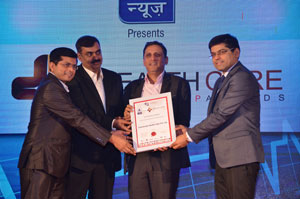 Carestream provides an extraordinary customer service experience by effectively leveraging our people, processes and tools. The company believes that service delivery is critical to customer success. In order to deliver service excellence efficiently and cost-effectively, three elements must be successfully combined: people, processes and tools. Some of the key initiatives undertaken to achieve service excellence by Carestream are as follows:
The Centre of Excellence Setup – remote resolution of breakdowns
Self-serviceable product to increase the up-time of equipment
NPS – Net Promoter Score to bring the customers' voice into the company
Ensuring shortest possible spare parts delivery time
Establishing customer care centre
Attending customer concerns in the shortest possible time
Customer Champions Recognition Program
"We are both honoured and humbled by this Certificate of Merit for Best Customer Service in Healthcare. We would like to dedicate this honour to our customers who have stood by us over many years. We wish to renew our pledge to strive as hard as possible to provide them even better service in the years to come," said Mr Sushant Kinra, MD, Carestream Health India.
The Healthcare Leadership Awards is a premium forum bringing elite hospitals, diagnostic centres, medical equipment manufacturers, pharmaceutical companies, etc. all together under one roof. The programme offers top healthcare professionals, agencies and consultants a conducive environment for recognizing and rewarding excellence.