GENEVA, May 22 — With a theme of Innovation and New Technologies, the 2018 EFORT Congress offers a great opportunity for visitors to find out more about Carestream Health's medical imaging and IT solutions. The European Federation of National Associations of Orthopaedics and Traumatology (EFORT) unites 41 national organizations to promote the exchange of scientific knowledge and experience relating to diseases and injuries that affect the musculo-skeletal system. This, its 19th Congress, is due to take place in Barcelona from May 30 to June 1. Visitors will be able to find out more about Carestream's latest developments in this area on booth 54.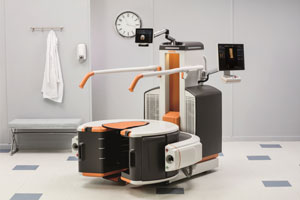 This will include details of the CARESTREAM OnSight 3D Extremity System: a compact cone beam CT system that offers high-quality, lower-dose 3D imaging technology for capturing weight-bearing and other types of patient extremity images that would not be possible with traditional CT. It can help in treating a host of orthopaedic conditions that affect the bio-mechanical behaviour of the joints such as arthritis, meniscus loss, instability and misalignment syndromes.
"Carestream's presence at this year's EFORT Congress will give visitors the opportunity to find out more about our range of innovative imaging systems and medical IT solutions as well as our latest achievements relating to the prevention and treatment of musculo-skeletal injuries and diseases. Several members of our staff will be present to answer questions and are looking forward to meeting existing and potential clients on our stand," said Cyrill Aschenbrenner, XRS Regional Business Director, Europe.
Read the blog by Twin Cities Orthopaedics to learn how 3D extremity imaging has changed the way its staff treat and evaluate patients.
A video presentation of the OnSight 3D Extremity System and its operation.