Read Part 2 of our Boyd Technologies Sourcebook Article – Working with a Manufacturer to Create Solution Cast Films May 3, 2016 | by Maria Koomen, Manager, Manufacturing Business Development, Carestream Contract Manufacturing

The Importance of In-Line Control and Inspection
Precision, multi-layer solution coating methods are well suited for the custom manufacture of high-performance cast films. Part I of this series outlined a robust process for scaling-up a solution cast film from benchwork, through pilot coating and full-scale production trials to final process and product accreditation. In addition to delivering an optimized process, the development process described in Part I of this series also results in a well-understood range of production process conditions.
Part II outlines how process control and inspection ensures that conditions accredited during the qualification process are maintained during production, and that any defects generated during casting can be removed before film is made into a final product.
In-line Process Control & Inspection Techniques
Sophisticated in-line process control and inspection techniques enable the solution casting process to run continuously, while monitoring and controlling deviations, which can negatively affect product performance.
Experienced contract manufacturers have developed a toolbox of best-practice process control and film inspection techniques from which they select the best fits for each film's unique needs. Quickly identifying and characterizing quality issues allows real-time process control and defect mapping for rapid root-cause analysis, process optimization and yield enhancement. Defect maps also enable automated culling of substandard material – saving labor and time while ensuring finished product quality.
In addition, these automated processes generate the necessary documentation to demonstrate compliance with stringent quality management system requirements, such as ISO 13485. Common in-line control and inspection techniques are outlined below:
Solution flow metering with closed loop control
Web line speed monitoring and control
Drying air and web temperature monitoring
Beta gauge, which measures thickness via absorption from a radiation source
Optical inspection from a laser or visual light source
Electrical methods such as eddy current
Other capacitive or resistive methods
Solution Flow Rate & Web Speed
By precisely controlling the solution flow rate and web speed, it is possible to target and maintain the coated film thickness without use of an in-line thickness gauge. After checking dry film thickness offline, the flowrate can be adjusted if necessary to hit the product aim.
Air & Web Temperature
Monitoring the air and web temperature in each zone ensures that the optimized drying profile, discussed in Part I of this series, is being employed. The web temperature can also be used to check when all solvent is evaporated and predict the extent of film curing.
Optical Scanning Inspection
In applications requiring defect-free cast films, sophisticated optical scanning inspection systems are employed during film casting and coating operations. To ensure 100% inspection, the system uses overlapping cross-web scans.
This inspection can be reflective or transmissive with dark field or bright field sensing. Angle of incidence between light source and the inspected web material is another consideration with optical inspection. Optimizing incidence angles and correlating multiple inspection methods enable anomalies to be detected more reliably versus the background noise in the web.
Data from these optical inspection systems can be used to create a visual representation of the imperfections detected. Technicians can use this information to gain a clear understanding of defects and work to characterize and correct them. This visualization capability accelerates root-cause determination and correction – ultimately increasing yield.
Defect Mapping
Defect mapping is an important function of in-line inspection, which detects and documents the exact location of any imperfection and characterizes the defect by type. A resulting defect map can be used in downstream converting operations to automatically or manually "diagram out" – cut out and discard – identified defects. Maps can also be used to look for defect patterns, which can help determine root cause and lead to corrective actions to prevent recurrence. The figure below depicts a scatter graph, a commonly used form of defect mapping.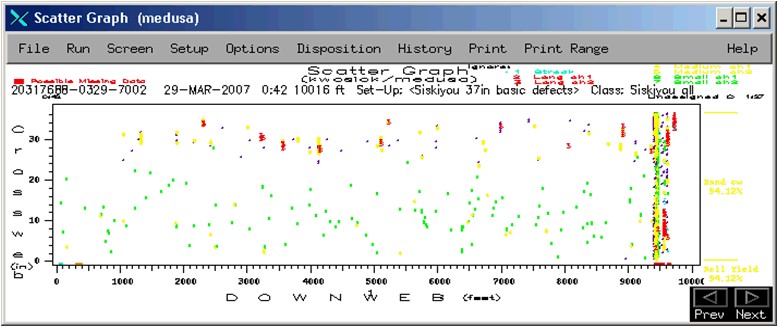 An experienced coater will have amassed an extensive library of possible defects along with their characteristics, root causes and corrective actions, which cover a broad range of substrates, coated materials and applications. When well managed, such a library enables users to insert keywords that identify imperfections and access information on defects previously encountered with similar descriptions. After searching the database, micrographs of past defects can be examined to determine similarity to the defect at hand.
In Summary

In closing, creating high-quality solution cast films involves numerous complex variables and stringent quality guidelines, which require proper metrics and film quality inspection methods. Carestream Contract Manufacturing can produce several million square meters of film each year for large applications – but can also economically produce small batches for niche applications, as flexibility and service are paramount.
Read Part 1 of this article, Working with a Manufacturer to Create Solution Cast Films Part 1, or visit the Boyd Technologies Sourcebook. View our Boyd Technologies Sourcebook Testimonial.