ROCHESTER, N.Y., Nov. 12 — Carestream will demonstrate new features for its Vue Cardio PACS that include a new dashboard as well as improved image viewing, reporting and analytics functionality at the 2014 Radiological Society of North America (RSNA) conference. The newest version of Vue Cardio PACS is available in the United States and Canada, and will be available in other countries in the first quarter of 2015. Existing Vue Cardio PACS users can upgrade their systems with these features.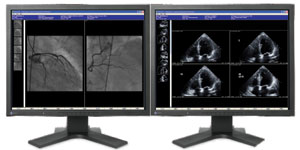 The latest Vue Cardio PACS platform offers a new patient-centric dashboard that provides immediate access to patient data and procedure history for diagnosis of the current exam. This includes a timeline display of prior exams, quick view of all available documents and reports, an area to enter private notes, and the ability to send a text message or email notification to a physician when a patient has a critical result finding. A clinical information management tool generates outcomes analysis and reports with the ability to build complex search rules, and a new scheduling module provides the ability to schedule procedures directly from the dashboard.
Advanced features for echo and cath viewing include support of Boston Z-scores for pediatric echo reporting, support for Stage 5 and Stage 6 stress echo exams and quantitative coronary analysis for cath exams. Vue Cardio PACS offers an integration with Cedaron for outcomes data collection and national database participation and reporting. It is designed to capture information efficiently and provide data elements to the American College of Radiology, National Cardiovascular Data Registry, Society of Thoracic Surgeons and local registries.
Cardio PACS Platform Delivers Streamlined Workflow
Healthcare providers have embraced Carestream's Vue Cardio PACS platform because it delivers a streamlined reading workflow and advanced imaging tools.
"We selected Vue Cardio PACS because it supports fully featured viewing, reading and management for all types of cardiology exams including echo cardiograms, ECG, cath lab and nuclear cardiology exams on a single workstation," said Jason Scott, Director of Imaging and Cardiac Diagnostics at Witham Health Services. "It also delivers advanced reading and measurement tools and structured reporting with an electronic signature. All of these capabilities can enhance both convenience and productivity."
Vue Cardio PACS streamlines enterprise and remote access to medical images and information for faster diagnosis, reporting, storage and distribution of clinical data. The Web-based PACS consolidates review of echocardiography, cardiac cath, ECG, nuclear cardiology and hemodynamic results with easy comparison of priors for better patient care. A zero-footprint viewer allows on-site or remote clinicians, cardiologists and referring physicians to access imaging data, reports and patient information. This viewer utilizes a native browser and supports smart phone and tablet mobile devices.
As part of Carestream's "Knowing Matters" strategy, Carestream's Vue portfolio of healthcare IT solutions is designed to offer greater value and insight for clinicians, foster collaboration, control costs and streamline dataflow. The company's Vue solutions amplify the clinical, business and IT value of radiology services.
To view information about Carestream products being demonstrated at RSNA or to make a booth appointment, please visit www.carestream.com/rsna.