University of Notre Dame Chooses Latest Technology From Carestream Molecular Imaging For Disease Research
SOUTH BEND, IN, March 16 — The University of Notre Dame is using the latest in vivo and in vitro optical molecular imaging technology from Carestream Molecular Imaging as part of its cutting-edge research of infectious disease, bone disease, cancer and other medical applications.
The In Vivo Imaging Core, part of the recently commissioned Notre Dame Integrated Imaging Facility (NDIIF), chose the KODAK In-Vivo Multispectral Imaging System FX to satisfy its demand for multi-modal molecular imaging needs. The imaging facility utilizes the system for a range of imaging techniques including chemiluminescent, fluorescent, X-ray and radioisotopic applications.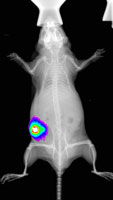 "The KODAK Multispectral System is very popular in our core imaging facility because it offers our researchers four powerful imaging modalities in a single system, and we use them all," said W. Matthew Leevy, PhD, Research Professor and Managing Director of the In Vivo Imaging Core, University of Notre Dame.
 "Of particular value is the multi-modal capability," he added. "The system's X-ray mode provides a convenient anatomical map with which to precisely co-register and accurately localize optical or radioisotopic signals emanating from target disease cells. This is an extremely powerful and useful combination."
Notre Dame's In Vivo Imaging Facility focuses on non-invasive methods to observe and image various disease models and biological processes in living systems. It is co-located with the Freimann Life Science Center (FLSC), which provides a full range of veterinary services.  Together the NDIIF and FSLC provide animal care and imaging services to a wide range of investigators at the University and regional levels. 
The KODAK In-Vivo Multispectral Imaging System FX is designed to enable researchers to precisely locate and monitor changes in molecular activity of specific areas of interest—long before morphological changes can be detected—expediting the development of effective therapeutics for disease treatment.
                                                                                 ###
About Carestream Molecular Imaging
Carestream Molecular Imaging group, a division of Carestream Health, Inc., develops and markets high performance digital imaging systems, imaging agents, film and accessories under the KODAK brand for the life science research and drug discovery/development market segments. For more information, visit http://mi.carestreamhealth.com or call 1-877-747-4357, express code 7. Outside of the United States, call 1-203-786-5657.
About Carestream Health, Inc.
Carestream Health, Inc., is a leading provider of dental and medical imaging systems and healthcare IT solutions; molecular imaging systems for the life science research and drug discovery/development market segments; and x-ray film and digital x-ray products for the non-destructive testing market. Headquartered in Rochester, N.Y., and serving customers in more than 150 countries, Carestream Health is an independent company operating within the family of companies owned by Onex Corporation (TSX: OCX.TO) of Toronto, Canada. For more information about Carestream Health, contact your Carestream Health representative or visit www.carestreamhealth.com.
KODAK is a trademark of Kodak used under license.
2009