Trade Trials for Carestream Health's Wireless, Cassette-Size DR Detector Underway In Canada And Europe
Canadian Hospital Reports DRX-1 System Delivers Excellent Performance, Image Quality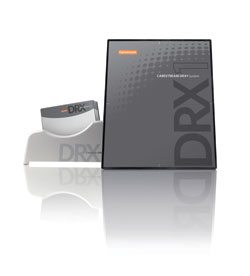 CHICAGO, April 4 — Trade trial sites are reporting excellent performance from the industry's first wireless, cassette-size detector, the CARESTREAM DRX-1 System. Carestream Health, Inc., has been testing the new detector at healthcare facilities in Canada and Europe for several months. The system is expected to be available this summer.
Trade trial sites include: Brantford General Hospital, Brantford, Canada; Frankfurt University Hospital, Frankfurt, Germany; Guelph General Hospital, Guelph, Canada; and Poissy Clinic, Poissy, France.
Brantford General Hospital began testing the system earlier this year in one of the hospital's busy general radiology x-ray rooms. The 300-plus bed, acute care hospital is part of The Brant Community Healthcare System.
"The DRX-1 system delivers excellent image quality and is extremely easy to use," said Nancy Wheeler, MRT (R) CIIP, the healthcare system's Imaging Manager. "Our radiologists report that the DRX-1 system has improved image quality for all exams, with the most significant gains being seen in chest exams and imaging studies conducted on larger patients."
She adds that the detector is lighter and easier to use than she expected. "Portable DR detectors are heavier than CR cassettes, but the DRX-1 is light enough that it can be easily positioned by technologists and used with a grid when needed."  
The hospital wants to upgrade from CR to DR in the department's three x-ray rooms to improve both workflow and patient care—but replacing its five-year-old x-ray equipment is not practical.  "The DRX-1 system provides all the benefits of DR technology without requiring us to replace our existing x-ray equipment, so it is an ideal solution," Wheeler said.
With the DRX-1 System, imaging studies are captured by the detector and transmitted to the system's console using secure wireless communications. Preview images appear on the monitor in about five seconds so technologists can verify patient positioning.  
Since this new detector can be employed in nearly all applications where a 14 x 17 inch (35 x 43 cm) x-ray cassette would be used, it offers an affordable, smooth transition to DR technology for many imaging environments.
                                                                                 ###
About Carestream Health, Inc.
Carestream Health, Inc., is a leading provider of dental and medical imaging systems and healthcare IT solutions; molecular imaging systems for the life science research and drug discovery/development market segments; and x-ray film and digital x-ray products for the non-destructive testing market. Headquartered in Rochester, N.Y., and serving customers in more than 150 countries, Carestream Health is an independent company operating within the family of companies owned by Onex Corporation (TSX: OCX.TO) of Toronto, Canada. For more information about Carestream Health, contact your Carestream Health representative or visit www.carestreamhealth.com.
CARESTREAM is a trademark of Carestream Health, Inc.
2009