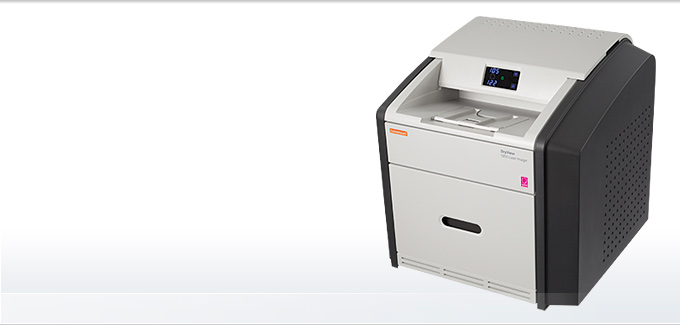 CARESTREAM DRYVIEW 5950 Laser Imager
Powerful. Simple. Affordable
The CARESTREAM DRYVIEW 5950 Laser Imaging* System offers perfect integration of high diagnostic image performance and low costs. You get the superb advantages of DRYVIEW laser imaging technology, tabletop printing convenience and built-in mammography capabilities. Ideal for a full range of applications:
Computed Radiology (CR)
Digital Radiography (DR)
Magnetic Resonance Imaging (MRI)
Computed Tomography (CT)
Full-Field Digital Mammography and CR-Mammography
*Available in Most Countries
System Benefits
Specifications
Service and Support
System Benefits
The powerful, yet space-saving DRYVIEW 5950 offers flexible, high-resolution laser printing for mammography and general radiography.

Ease of Use

DRYVIEW Daylight Load Cartridges allow users to load two film sizes quickly and easily in normal lighting conditions
User interface makes operation easy and minimizes user training

Exceptional Laser Printing

DRYVIEW laser printing technology is legendary for its ability to consistently deliver exceptional diagnostic image quality.
High-resolution laser printing at 508 pixels per inch

Low Cost of Ownership

Remarkable reliability contributes to productivity and affordability
DRYVIEW technology does not use thermal print heads, requiring no daily or weekly maintenance on print heads or film transport rollers

Built-in Mammography Capabilities

No hardware or software upgrades needed to print high-quality, high-resolution images from Full Field Digital Mammography (FFDM) and CR-Mammography systems
Mammography optimized capabilities include user-selectable test patterns and key control charting parameters and values
Automatic Image Quality Control technology automatically calibrates film and imager settings, to provide superior results every time you print.
Specifications
Service and Support

CARESTREAM Smart Services

Learn how our worldwide services team works alongside your professionals to keep your equipment running at peak performance.