Nastała era cyfrowa w pracowni RTG SPZOZ w Nowym Tomyślu po zainstalowaniu nowoczesnego aparatu cyfrowego rtg CARESTREAM DRX EVOLUTION
Warszawa, 1 października 2015r. – Samodzielny Publiczny Zakład Opieki Zdrowotnej w Nowym Tomyślu imienia Kazimierza Hołogi przeprowadził remont pracowni RTG i wyposażył ją w nowoczesny cyfrowy aprarat rtg typu Carestream DRX Evolution oraz skaner radiografii cyfrowej Vita XE.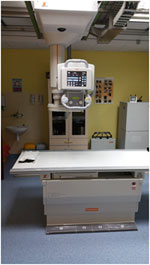 Pracujący w szpitalu stary aparat rtg liczył już blisko 30 lat i nie wykonywał badań o zadowalającej jakości. Obecnie pracuje tutaj nowoczesny cyfrowy aparat rentgenowski z zawieszeniem sufitowym oraz pełną automatyką. Efektem jest znakomita jakość badań w technice cyfrowej i możliwości ekspozycji w różnych projekcjach niedostępnych do tej pory. Daje to komfort pacjentowi, który nie musi się przemieszczać bo lampa rtg aparatu porusza się sama zdjęcia w odpowiednich pozycjach. Ponadto zwiększyło się bezpieczeństwo wynikającego m.in. z niskiego poziomu napromieniowania i natychmiastowego podglądu zdjęć wykonanych technologią cyfrową. Wykonanie badania przebiega szybciej i bez konieczności oczekiwania na wywołanie kliszy.
Specjalista ds .Produktów Pan Dariusz Marczakowski z firmy Carestream tak opisuje właściwości zainstalowanego sprzętu: DRX Evolution to nasz najbardziej zaawansowany cyfrowy system rtg. Elastyczna konfiguracja umożliwia dostosowanie się do potrzeb klienta a zmotoryzowane zawieszenie sufitowe wraz z podnoszonym stołem i zmotoryzowanym stojakiem płucnym zwiększa wydajność gabinetu. Podstawowe funkcje automatyki pozycjonowania, takie jak autocentrowanie, śledzenie i autopozycjonowanie powodują, że wykonywanie badania staje się prostsze i szybsze. Ruchomy przesuwny zmotoryzowany stojak płucny umożliwia szybkie badania pacjentów po wypadkach na stołach mobilnych bez zbędnego przekładania na stół stacjonarny."
Wykorzystywana technologia firmy Carestream umożliwia wykonanie badań takich jak obrazowanie całego kręgosłupa lub całej kończyny w sposób całkowicie automatyczny w ciągu kilkunastu sekund co wcześniej wymagało wykorzystania specjalnych kaset.
####
Carestream Health Poland Sp. z o.o . jest częścią koncernu Carestream Health Inc., wiodącego producenta systemów obrazowania medycznego i stomatologicznego oraz rozwiązań informatycznych dla służby zdrowia a także urządzenia i materiały do testów z udziałem promieniowania rentgenowskiego w przemyśle. Systemy firmy Carestream Health Inc., są również przeznaczone dla jednostek zajmujących się poszukiwaniem i udoskonalaniem leków. Carestream Health Inc obsługuje klientów w ponad 150 krajach i jest niezależną firmą działającą w ramach grupy spółek należących do Onex Corporation z siedzibą w Toronto w Kanadzie. Firma Carestream Health Inc.,. powstała w 2007 r. w wyniku zakupu Działu Medycznego EastmanKodak Company przez kanadyjską korporację Onex.
Aby uzyskać więcej informacji na temat firmy i oferty prosimy odwiedzić stronę www.carestream.pl.
Pierwsze wzmianki o szpitalu w Nowym Tomyślu pochodzą z 1883 roku. Na przestrzeni lat i po wielu zmianach oraz rozbudowie, zwiększała się zarówno jego baza lokalowa, jak i sprzętowa Sukcesywnie był rozszerzany zakres świadczeń medycznych oraz infrastruktura szpitala. W 2009r. rozpoczęta została bardzo szeroka rozbudowa i modernizacja budynków szpitala, czego efektem stało się w okresie dwóch lat oddanie do użytku i przeniesienie do nowych pomieszczeń: Oddziału Anestezjologii i Intensywnej Terapii, Oddziału Chorób Wewnętrznych, Oddziału Dziecięcego, Szpitalnego Oddziału Ratunkowego, Pracowni Endoskopii oraz Pracowni Tomografii Komputerowej. Z dniem 1 stycznia 2012r. nastąpiło otwarcie dwóch nowych oddziałów: Oddziału Neurologicznego i Oddziału Udarowego. Rozpoczęły też swoją działalność specjalistyczne poradnie przyszpitalne: Poradnia Neurologiczna, Poradnia Ginekologiczno-Położnicza, Poradnia Leczenia Bólu i Poradnia Ortopedyczna. Baza diagnostyczna rozszerzyła się o Pracownię EEG i EMG.
W celu uzyskania dodatkowych informacji zapraszamy na stronę www.szpital-nowytomysl.pl