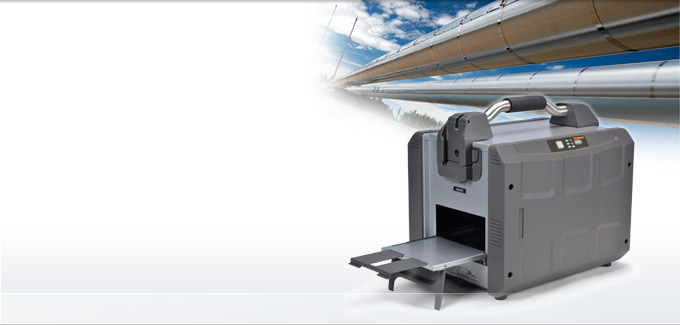 Carestream Industrex HPX-PRO Portable Digital System
CR for Anywhere NDT Takes You
The HPX-PRO Portable CR System is designed for high throughput digital imaging in rugged NDT environments. It's a lightweight (35lbs/16Kg), portable solution that can be set-up in less than 5 minutes and process a weld in up to a minute, producing high-quality digital images for quick analysis and rapid final reporting. HPX-PRO is a complete solution using Carestream's INDUSTREX software to scan, display and store your all your digital data.

The HPX-PRO...PROductive Digital, PROformance Imaging, PROfessional results
Hardware Features
Software Features
Specifications
Hardware Features
Simple User Controls
Includes easy-to-read System Status, Power, and Ethernet Connectivity LEDs, with a separate LED scale for Battery Power.
Filter/Air Vents
Replaceable air filter to keep out dust and dirt.
Fold-up Feed Doors with Extensions
Both the entry and exit doors fold up to seal off the unit from dirt and dust when in transport or not being used. A magnet holds the doors closed. Each door has an extension to support up to a 17" long plate.
Detachable Handle
Can be removed via two Phillips screws to reduce height (to 14").  Mobile film labs don't have a lot of extra room and when you're trying to fit something between the bottom and top cabinets every inch counts. 
Battery Holders
Includes powered mount for usage and storage mount for second battery, providing 4 hours of standby time and 45 minutes of imaging time per battery.
Mounting Bracket
Allows you to secure the unit to a mounting plate during transportation. The optional mounting bracket can be attached to the work surface enabling the HPX-PRO to be quickly snapped into a harness for transport on rough roads. At the end of the day simply remove it for safe storage in a climate-controlled environment.
Ethernet and Power Connections
Set up the unit in less than 5 minutes. Simply connect an Ethernet and power cable and you are ready to work.
Carry Strap
Comes with detachable strap for over-the-shoulder carrying in transport.
Software Features
Specifications

Carestream NDT YouTube Channel

Tune into Carestream's NDT YouTube channel for video product demonstrations and feature overviews of our innovative imaging products.