Bruce D. Leidal, Chief Information Officer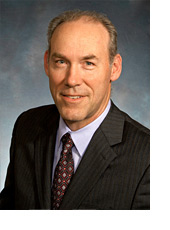 Bruce Leidal is Chief Information Officer (CIO) for Carestream Health, Inc.
Mr. Leidal leads Carestream Health's global Information Technology (IT) organization—focusing on building a more efficient and effective IT organization, streamlining processes, reducing costs and, ultimately, providing information that enables Carestream Health to optimize its business while continually improving its customers' experience.
Prior to joining Carestream Health, Mr. Leidal served as CIO for Hayes Lemmerz, International (HLI), a $2.4 billion global automotive supplier for which he was responsible for transforming HLI's IT function from a decentralized, North American organization into a global operation with centralized applications and supporting infrastructure. His accomplishments at HLI led to improved information accuracy, streamlined decision making, and stronger business management.
Mr. Leidal previously held leadership positions at Systems Thinking, LLC, General Motors, Federal-Mogul Corporation, and AT Kearney/EDS Management Consulting.
He received a B.S. in Information Systems from Madonna University in Livonia, Mich., and has several certifications including Project Management Professional (PMP) from the Project Management Institute (PMI) and IT Management from Learning Tree International.