Carestream delivers first DIRECTVIEW Vita CR X-ray system to the veterinary market
Carestream has delivered the first DIRECTVIEW Vita CR System to BCF Technology, the official supplier of Carestream X-ray equipment to veterinary practices in the UK and Ireland.
The Vita CR System is a compact, tabletop digital imaging solution designed specifically for small hospitals, clinics and specialty practices. It provides high quality X-ray images and integrates seamlessly into existing workflows, improving both efficiency and productivity – all at an affordable price. Andy Cross and Wendy Tiller from Carestream were delighted to formally hand over the first of the new systems to Gavin Mitchell and Kimberly Palgrave, in-house vet at BCF Technology.
'At BCF, we recognise that the ability to take high-quality X-rays quickly and accurately improves both clinical diagnostics and practice workflow,' said Kimberly. 'With the Vita CR System you can forget about the cost of buying and storing film and chemicals, as well as the health and safety issues associated with the handling and disposal of processor chemicals.'
'The Vita CR will not only reduce the number of repeat X-rays taken due to poor radiographic technique or processing faults, but will also minimise the time spent performing routine maintenance,' continued Kimberly. 'This results in improved staff efficiency, saving both time and money. Faster image production may also enable a shorter duration of anaesthetic/sedation to be used, further improving patient care.'
Andy Cross, Business Partner Manager for Carestream responded: 'BCF are totally committed to the veterinary market. They employ their own Radiographers, have a superb service department, which provides great back-up for their customers and they are, without doubt, a pleasure to work with.'
Since the handover BCF has already installed DIRECTVIEW Vita CR Systems into a number of veterinary practices across the UK and customer reaction has been extremely positive.
Kieran Borgeat BSc(Hons), BVSc CertVC, MRCVS of Zetland Veterinary Hospital in Bristol commented: 'There was no difficulty in the transition between chemical processing and digital CR, and we have all been very pleased with the high image quality and easy to use software. The installation went very smoothly and we were able to take images within an hour of set-up. The support from BCF has been excellent.'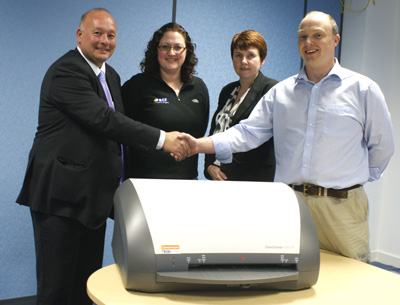 (L to r) Andy Cross, Carestream Business Partner Manager; Kimberly Palgrave, BCF Technology; Wendy Tiller, Carestream; Gavin Mitchell, BCF Technology, at the handover of the first DIRECTVIEW Vita CR System.
About Carestream Health
Carestream Health is a worldwide provider of dental and medical imaging systems and healthcare IT solutions; molecular imaging systems for life science research and drug discovery/development; x-ray film and digital x-ray systems for non-destructive testing; and advanced materials for the precision films and electronics markets. For more information about the company's broad portfolio of products, solutions and services, please contact your Carestream Health representative or visit .www.carestream.com.

CARESTREAM is a trademark of Carestream Health
2011