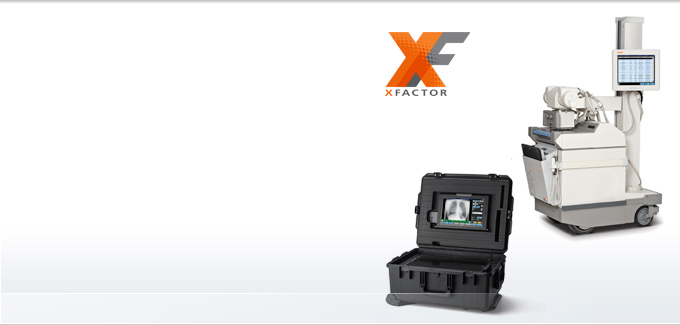 CARESTREAM DRX-Mobile Retrofit Kits
A smarter way to go DR
Carestream's mobile retrofit kits use a single wireless detector to convert your existing mobile x ray equipment—regardless of supplier—to a DR system fast and cost effectively. Maximize your current investment and upgrade to digital radiography productivity with three easy-to-install, easy-to-use retrofit kits.
DRX Mobile Retrofit Kit
DRX Transportable / Universal Mobile
DRX Transportable / Field Portable  
DRX Transportable/Lite
DRX-Mobile Retrofit Kit
Universal Mobile
Field Portable
Transportable System/Lite
X-Factor
Wireless Detectors
DRX-Mobile Retrofit Kit
Universal Mobile
Field Portable
Transportable System/Lite
X-Factor
Experience the X-Factor of Carestream's approach to DR Systems.

Carestream is changing the DR game and putting you in control of the move to digital. The world's first cassette-sized wireless detector platform gives you the X-Factor and makes the most of your capital investment. It meets today's needs and positions you for growth. X-Factor is a better way to care for patients.

Compatible

A single detector platform works across a broad portfolio of DRX equipment
Convert an existing x-ray room or mobile system to digital radiography in a day

Scalable

Take a modular approach to your capital investment
Customize a DR solution that fits your workflow and budget
Add DR systems as your facility expands and grows

Flexible

Get the most out of your DRX investment 24 hours a day, seven days a week
Share the detector with a mobile imaging unit for morning rounds, a radiology room DR suite in the afternoon and the emergency department at night
Use a common software platform to speed your exam process

More than 11,000 DRX detectors are helping healthcare facilities around the world unlocked the benefits of wireless DR with the Carestream DRX Family.

X-Factor. Changing the Way You Think About DR.

 
Wireless Detectors


Contact Us

To have a sales rep contact you, please use the sales form. For product information or company questions, please use our general form.