ROCHESTER, N.Y., Feb. 6— North Colorado Medical Center (Greeley, Colo.) has installed two CARESTREAM DRX-Evolution Systems (video) and two CARESTREAM DRX-Revolution Mobile X-ray Systems. The hospital is operated by Banner Health.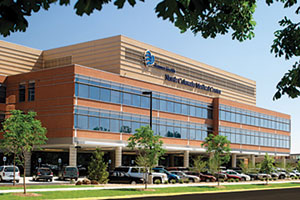 The hospital, which is licensed for 378 beds, adopted both room-based X-ray systems in its ER to enhance image quality, boost staff productivity and deliver rapid access to images for physicians.
"The DRX-Evolution system offers automated control that expedites the capture of cross-table, trauma, scoliosis, long-length, spine, extremity and general X-ray exams. It also delivers the excellent diagnostic detail required by our orthopaedic, pediatric, trauma and other clinical specialists," said Rafael Hernandez, the hospital's Medical Imaging Senior Manager.
He added that the table can be lowered to a height of about 21 inches, which is extremely helpful in imaging severely ill or injured patients.
A second DRX-Evolution system is equipped with a wall stand and is used for chest and other upright exams. Both room-based imaging systems use Carestream's cesium iodide detectors to maximize image quality.
The hospital's two DRX-Revolution mobile imaging systems capture exams for inpatients and critical care patients. Each portable system has optional Carestream software that can enhance imaging of PICC lines and detection of pneumothorax.
"This software helps physicians and interventional radiologists obtain better visualization of abnormalities in the chest and determine if a biopsy or other procedure is needed," said Mr. Hernandez.
Banner Health has hospitals in Greeley, Loveland and Fort Collin, Colorado. The organization is standardizing on Carestream imaging systems at its Northern Colorado facilities to expedite productivity and enable technologists to work at multiple sites as needed.
###
About North Colorado Medical Center
North Colorado Medical Center (Greeley, Colo.) is licensed for 378 beds and is a leader in providing the latest healthcare technology and advanced services to Weld County, northern Colorado and the surrounding multi-state region for more than 100 years. The hospital is nationally recognized for excellence in many programs such as burn and trauma care. Additionally, NCMC is home to Banner MD Anderson Cancer Center at North Colorado Medical Center. Designated as a Level II Trauma Center, the hospital has provided a medical air transport service to the region since the early 1980s with three helicopters available for patient transport. For more information please visit North Colorado Medical Center.